Single Tooth Implants – Bergenfield, NJ
Restoring Smiles One Tooth at a Time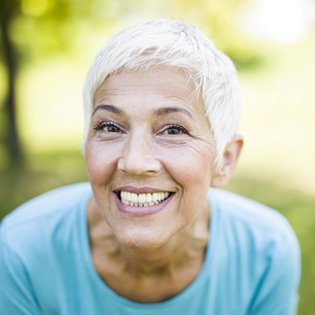 We understand the difficulties that come with a missing tooth. Not only are you embarrassed, but you're worried that your smile will never be complete again. Thankfully, it doesn't have to be that way. At Washington Dental Associates, our dental professionals offer single tooth implants in Bergenfield. When you think of missing teeth, you might automatically envision dentures, but when you're only missing one tooth, that's not necessary. With single tooth implants, you can have a fully restored smile without any sticky adhesive! Experience greater stability and increased confidence with this longer lasting tooth restoration. To find out how you can learn if you're eligible for dental implants, contact us to schedule a consultation!
Why Choose Washington Dental Associates for Dental Implants?
Dental Implant Placement & Restoration in 1 Office
Replace A Single Missing Tooth, Multiple Teeth or An Entire Arch
Unhappy with the Results? You Get Your Money Back
Tooth Replacement Options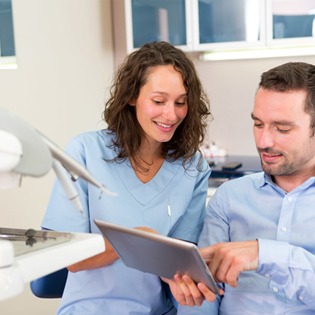 If you're trying to determine how you want to replace your missing tooth, you have two options: a fixed bridge or a single tooth implant. Both will give you the look you want, but only one will fully replace the structure.
Fixed Bridge: If you prefer to go the non-surgical route, a fixed bridge is a great alternative. By using the healthy teeth on either side of the missing tooth gap, your dentist in Bergenfield will place crowns or "caps" over the healthy teeth to serve as anchors for the bridge. Your customized prosthetic will be put into place, and you'll have a seamless smile.
Single Tooth Implant: Achieving the same visually pleasing look, single tooth implants go a step further by replacing the tooth's root. This creates a more stable structure, supporting the customized crown and blending in beautifully to create a full smile.
What are Single Tooth Implants?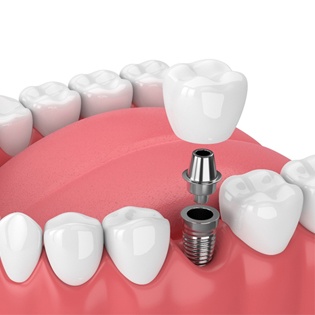 A single tooth implant is made of titanium and is surgically placed into your jawbone. When replacing a missing tooth, one of our highly skilled and trained dentists will make a small incision in the gum line before drilling a small hole into your jawbone. Positioning and placing the implant, they will stitch the wound and allow a process called osseointegration to begin. This will require you to spend the next several months at home, allowing the implant to properly fuse to the bone, ensuring it provides the necessary stability to support the custom restoration.
Once you return to our office, we will place an abutment that connects the implant to the restoration. Finally, your customized dental crown will be placed on top. During the creation process, the color, size, and shape of your natural teeth are taken into consideration to ensure you have a beautifully blended smile. No one will ever be able to tell the difference between your natural teeth and your artificial tooth.
Benefits of Single Tooth Implants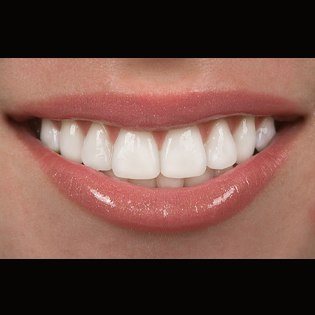 Natural teeth remain untouched: If you want a solution that doesn't hinder your natural teeth, single tooth implants are the way to go. Why? Because unlike fixed bridges, there's no need to alter your nearby teeth.
Natural look and feel: Your implant will feel and look much like a natural tooth. Although it will not have the roots and sensations felt by your other teeth, it will act and function just like your other teeth.
Low maintenance: With dental implants, there's no special product you need to buy to keep it clean. Brushing, flossing, rinsing, and continuing to visit our office for regular visits are enough to keep your implant healthy.
Long-lasting: There's no doubt that dental implants are the superior solution if you want a restoration that lasts a long time. With proper care, you can expect your implant to last decades, if not a lifetime.