Dentures – Bergenfield, NJ
Your New Dentures Can Help You Look Years Younger
Do you need to replace multiple missing teeth or a full row of teeth? Based on Dr. LaCap's and Dr. Tong's years of experience creating dentures, you can be confident that you'll receive exceptional care with results that look natural and beautiful.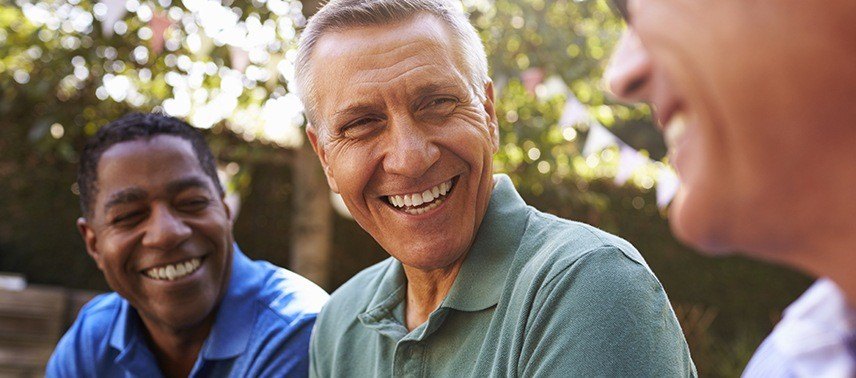 Why Choose Washington Dental Associates for Full & Partial Dentures?
Implant-Retained Dentures Available
Not Satisfied? Get Your Money Back
Decades of Trusted Clinical Expertise
The Difference Between Partial and Full Dentures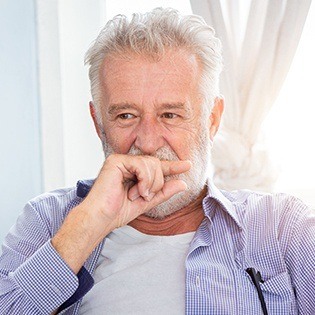 A partial denture features multiple missing teeth on a gum colored base, and unlike a bridge—which is fixed in place—a partial can be easily removed for cleaning and comfort. A full denture, meanwhile, replaces a full row of top or bottom teeth. They can be closed or open palate and are often held in place with a simple adhesive cream.
Problems with Ill-Fitting or Bad Dentures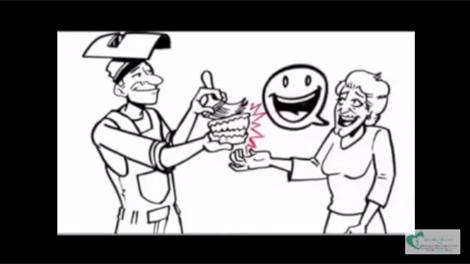 "Are You Suffering from Bad Dentures?"
Many older patients may wonder why it's so important to have a fully custom denture, but ill-fitting prosthetics can negatively impact your life in various ways. They can make it difficult to speak without clicking and clacking sounds, prevent you from eating favorite foods, and even send you running from the camera when someone wants to take a photo. If you're tired of these chronic concerns and ready for a change, our doctors would love to help.
We Guarantee Your Satisfaction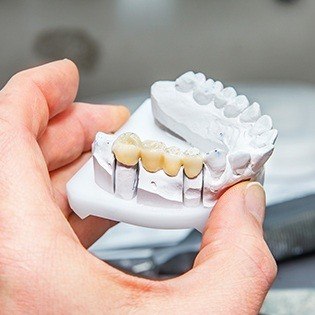 We want to be your dentists and we are willing to give away free and discounted dental care just so you can get to know us and give us a try. We know that 9 out of 10 patients like you who visit our office will be so delighted with the dental care that they become patients for life –like Lauren Severiano! She said:
"Dr. LaCap is so knowledgeable about what she's doing. She makes you feel really comfortable as the process goes along. She's the type of person who explains everything that is happening. Obviously, I don't have a dental background, so Dr. LaCap really wants instill her knowledge into you and she's just so friendly."
-Lauren Severaino, Patient
Implant-Supported Alternatives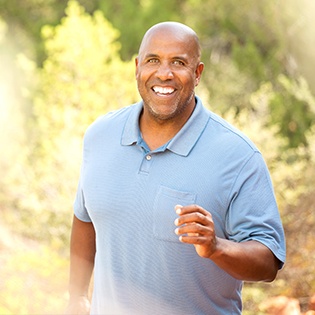 For patients who want something other than a traditional denture, we also offer dental implants and mini dental implants. These options can help patients achieve more natural and lifelike results because they have a structure that mimics the natural design of our teeth. If this is an option you want to consider, let us complete a consultation. We'll assess the health and strength of your jaw to determine if implants are right for you. If they're not, we're happy to discuss alternative solutions.
Learn More About Dental Implants
Schedule A Complimentary Denture Consultation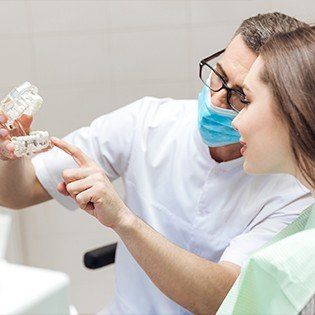 Remember: To restore your smile with a partial or full denture,call us today to schedule your FREE Get Acquainted Denture Consultation at Washington Dental Associates. We're happy to offer restorative care to our patients in Bergenfield, Dumont, New Milford, Teaneck, Cresskill, Tenafly, and other locations in New Jersey.
Understanding the Cost of Dentures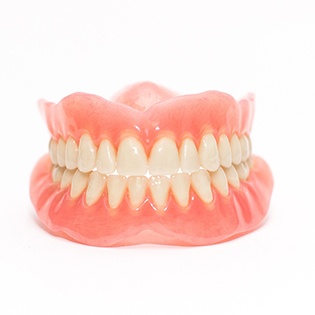 The cost of dentures in Bergenfield is manageable for most patients. The exact price depends on a number of factors, so we cannot provide any estimates until you come in for your consultation. Our team will do all we can to help you afford your care. For example, we can assist you with filing insurance claims. Additionally, financing is available for most patients.
Factors that Affect the Cost of Dentures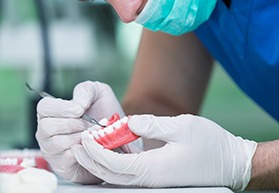 A few factors that affect the cost of dentures include:
Preparatory treatments. Some patients require tooth extractions, gum disease therapy, or other treatments before they are eligible to receive dentures.
Acrylic is usually used to make the base of dentures, while the teeth may be constructed out of acrylic or porcelain. These materials can be of varying qualities. Logically, more lifelike, higher-quality dentures tend to have a higher price. However, they are a worthwhile investment.
The type of denture. Full, partial, and implant dentures all have different price points. Some patients even choose to pay for two prosthetics; an immediate set of teeth that they can wear right after tooth extractions, and a permanent one that will last for several years.
Are Implant Dentures More Expensive?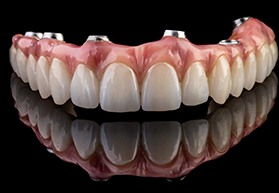 Yes, implant dentures in Bergenfield tend to cost much more than their traditional counterparts. The difference in price is due to the fact that the implant dentures process requires more time, a higher level of skill, more materials, and more complex treatments than traditional prosthetics. The increase in price is well worth it for most patients due to the superior stability and functionality of implant dentures. Plus, keep in mind that traditional dentures tend to last just 5 – 7 years, whereas implant-supported ones have a much longer life expectancy. They are therefore an excellent monetary value.
Does Dental Insurance Cover Dentures?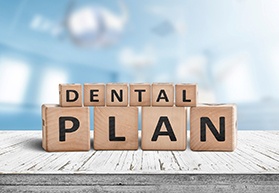 In most cases, yes, dental insurance is willing to pay for a portion of the cost of dentures. Usually, dentures are classified as a "major service," meaning that 40 – 50% of their price may be covered by insurance, up to the amount of a policy's annual maximum. Our team are experts at verifying benefits, filing claims, and finding answers to our patients' insurance questions. We accept payment from almost all plans.
Other Options for Making Dentures Affordable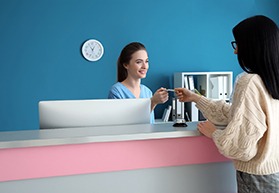 As your denture dentist in Bergenfield, we want you to be able to afford your new set of teeth. To that end, we offer a few convenient provisions:
Most patients qualify for CareCredit, a third-party financier that offers low-interest payment plans for dental services. The application process is quick, and if you are approved for credit, you may be able to choose from between several different payment plans.
Smile Savings Club. Our in-house savings plan offers discounts on many of the services available in our practice.
Special offers. We often offer discounts and special pricing on dental implant services, so be sure to ask about current promotions if you are interested in implant dentures.
Denture FAQs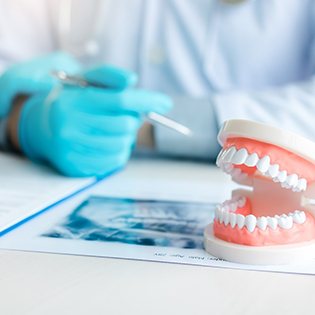 To this day, dentures are one of the most sought-after and reliable tooth-replacement solutions. That doesn't mean, however, that it isn't natural to have a few questions you'd like answered before committing to treatment. Do you have to get all of your teeth pulled? Is it hard to talk with dentures? Are there any dietary restrictions? We've taken the time to answer all of these questions and more right here.
Should I Have All My Teeth Pulled to Get Dentures?
Priority number one is always to save your natural teeth. However, there are some cases where that simply isn't possible, like when the tooth in question has sustained extensive decay. When it isn't feasible to save it, then a tooth extraction is necessary. Don't worry – our Bergenfield dentist will review all of your treatment options at your initial consultation so you can decide together what's best for your oral health.
Can I Sleep with My Dentures?
While you can sleep with your dentures, many dental professionals advise against it. To start, taking them out as you doze gives your gums a chance to rest, preventing soft tissue irritation. Secondly, wearing your dentures for too long can have a negative impact on your oral health, like higher levels of gum and tongue plaque. Lastly, removing them at night is the perfect opportunity to give your dentures a thorough cleaning. All you have to do is place them in a glass of a dentist-approved cleaner. By morning, they'll be fresh and clean!
Is It Hard to Talk with Dentures?
Fortunately, dentures in Bergenfield aren't difficult to talk with, especially after you get through the initial adjustment period. While you might experience a slight lisp in the beginning, you may be surprised just how quickly you adapt. After all, each denture is custom-made, ensuring it doesn't feel bulky or awkward in any way. (NOTE: If you find that your dentures are slipping out of place as you speak, try biting down and swallowing first. This will ensure the restoration is in the right position and that no excess saliva muddles your speech).
What Can't You Eat with Dentures?
Fortunately, dentures can improve your bite exponentially, especially if you've been struggling with moderate to severe tooth loss. With that being said, there are a few foods that you shouldn't eat with dentures. Sticky foods, like peanut butter and gummy candies, can tug on them, causing them to fall out of position. Hard items that require extensive chewing, such as nuts and certain breads, should also be avoided. Lastly, tough meats, like steak, should be enjoyed in moderation. When you do indulge, make sure to cut it into small pieces to put less stress on you and your dentures.
Can You Kiss with Dentures?
Yes! It's absolutely possible to kiss with dentures. Just be sure to be gentle at first and stick to closed-lip kisses. That way, you avoid accidentally knocking your restoration against their teeth. For added stability, try adding a little bit of a dentist-recommended adhesive to your dentures beforehand. This will prevent them from shifting.