Emergency Dentist – Bergenfield, NJ
We Offer Same-Day Emergency Dental Care!
If you or one of your loved ones suddenly has a tooth knocked out, what would you do? How would you handle it? Where would you go to get the care you need? These questions are difficult to process when pain is involved, so the best course of action is to already have a plan in place. If you live in Bergenfield, that plan will certainly involve Washington Dental Associates. Dr. Darren Tong, Dr. Mariliza Lacap, and our team of doctors and assistants are exactly the kind of skilled and caring professionals you need after suffering a dental injury. When you're in need of an emergency dentist, they're the team you can trust. Better yet, if you contact us before 12:00pm, we'll make sure to see you on the very same day!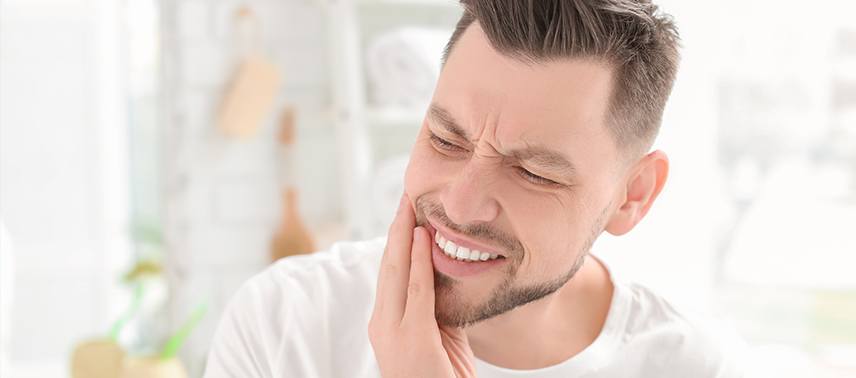 Why Choose Washington Dental Associates for Emergency Dentistry?
Same-Day Emergency Care Available
Relaxing Sedation Dentistry
Team of Accomplished Dentists & Specialists
What is a Dental Emergency?
Many dental problems can wait a week or two to be treated, but dental emergencies cannot. They typically involve a very serious injury to the teeth and gums, and they require immediate medical attention. When should you stop everything you're doing and call your emergency dentist Bergenfield? Here are a few common dental emergencies:
Toothaches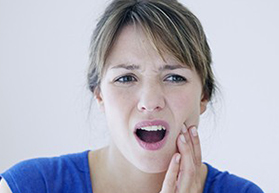 The dreaded toothache is most likely caused by an infection raging underneath the tooth enamel, which will require root canal therapy to remove. However, another possible culprit is the presence of a food particle or other foreign debris that's pressing painfully on the gum tissue. Try rinsing and flossing throughout the mouth to see if that relieves the discomfort. If not, contact our office right away for further instruction.
Chipped/Broken Tooth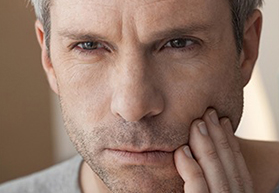 Have any large pieces of the tooth come loose? If so, gather them up and plan to bring them with you to our practice. In the meantime, a cold compress held against your cheek will minimize swelling. We also suggest placing some dental wax or a piece of sugarless gum over any new, rough edges of the tooth, as this will prevent accidental cuts to the lips and oral tissue.
Knocked-Out Tooth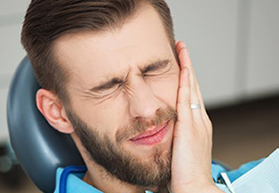 First question: do you still have the tooth? If so, pick it up carefully and rinse any dirt or foreign debris off just the crown (white) portion. Try not to touch the roots or natural tissue! If at all possible, place the tooth gently back into its original place and hold it there. Otherwise, carry it in a container of milk to keep it moist. Time is of the essence, so don't wait to contact Washington Dental Associates for help.
Lost Filling/Crown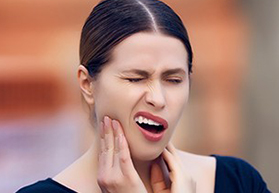 While the loss of a dental filling or crown aren't really true emergencies, they can still be uncomfortable in nature. The treated tooth will be exposed to the elements once again and is likely to suffer from noticeable sensitivity when faced with temperature or pressure. You can try gently reattaching the crown with some denture adhesive in the interim, which is usually found in local pharmacies. Make sure to contact our Bergenfield practice right away and schedule an appointment.
How to Prevent Dental Emergencies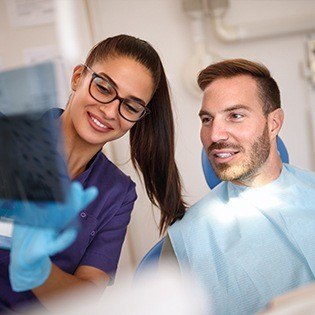 While it isn't possible to avoid emergency situations with 100% certainty, there are definitely ways to reduce you and your family's overall risk throughout the years. Just keep the following tips in mind:
Remember to schedule dental checkups and cleanings every six months on average! Our dentists can pinpoint small dental problems and successfully prevent them from becoming more serious.
Always wear a sportsguard when participating in athletic events where physical contact can take place.
Be careful when eating foods that are overly tough or sticky. Also, don't chew on the ice in cold drinks!
Use scissors or other tools to open packaging instead of teeth.
What to Do in a Dental Emergency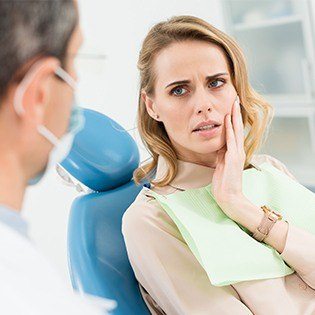 The first thing you should do in any dental emergency is immediately call your emergency dentist in Bergenfield. That will enable our team to make an appointment to see you as soon as possible (including same-day appointments) and talk you through basic first-aid over the phone.
Here are a few things you can do after you have called us:
Try to find your lost tooth/dental work.
Attempt to place it back into your mouth.
If you can't, put it in a safe container. For a tooth, make sure the container is filled with milk or saltwater. This will help preserve your tooth until you can see us and increase the possibility that of successful reimplantation.
Rinse your mouth with warm water to clean the injured area.
Use a towel or rag to apply gentle pressure to stop any bleeding.
Place a cold compress on the face to manage pain and swelling—15 minutes on, 15 minutes off. Any longer than this, and it may damage the skin.
When you call us, our team will walk you through each of these steps and will stay with you as long as you need. Once you make it to our office, we'll bring you straight back to the exam room so the doctors can quickly get to work relieving your pain and saving your smile. Most of the time, we can complete emergency procedures in just one visit (such as extractions, fillings, crowns, and root canals), but if you require more treatment, we'll be sure to eliminate your pain and schedule any follow-up visits necessary.
Understanding the Cost of Emergency Dentistry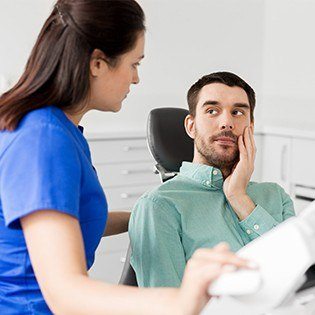 From a minor toothache to a lost crown, the cost of treatment for a dental emergency can vary greatly. While there is no all-encompassing answer of what you can expect to pay, there are a few factors that play a role across the board. Knowing what they are can help you budget accordingly should you or a loved one sustain a smile-related injury. Keep reading to learn more!
Every Dental Emergency is Different
Despite popular belief, a visit to your emergency dentist is relatively inexpensive – it's the subsequent treatment that can be costly. During your initial appointment, our team will conduct a thorough oral exam to properly determine the root of the issue, so we can effectively restore your pain-free smile. Typically, one of the below services will be used to intervene:
Root canal therapy
Extractions
Dental crowns
TMJ treatment
And more!
Regardless of what is needed to repair the function and aesthetic of your teeth, you can have peace of mind knowing our team will always explain our findings, answer any questions you have about the recommended treatment plan, and provide an estimate of the cost so there are no surprises along the way.
Preventive Care Can Save You Money
While it's impossible to avoid all dental emergencies, the ones that stem from poor dental hygiene can certainly be averted. In fact, the Journal of Dental Medicine shared that every dollar invested in preventive care can save you between $8 and $50 on cosmetic and restorative treatment in the long run. With this in mind, make sure to brush at least twice a day, prioritize flossing, and visit our team every six months for a dental checkup and teeth cleaning. If you do begin to experience oral pain, bring it to the attention of our team right away. Not only can treatment in the early stages prevent extensive damage to your teeth and gums, but it can benefit your wallet as well. After all, early intervention could mean the difference between root canal therapy and an extraction!
Does Dental Insurance Cover Dental Emergencies?
If you have available dental insurance benefits, then you can expect to save on your treatment. The exact amount, however, depends entirely on the fine print on your dental plan. For some, one yearly emergency exam is included, which covers the cost of diagnostic care entirely. For others, 50% to 80% of common restorative services, like root canal therapy and dental crowns, are covered. Don't worry – if you aren't sure of the details of your plan, our team is here to assist.
Other Options for Making Dental Emergencies Affordable
Just because you don't have an individual dental plan or one through your provider doesn't mean necessary dental care needs to be expensive. To ensure cost never stands in your way of getting the quality dentistry you deserve, our team is proud to offer:
An in-house membership plan – With Smile Savings Club, patients who are uninsured can enjoy a number of benefits, including 20% off restorative services, like root canal therapy and dental bridges.
Flexible financing – CareCredit is a third-party financier that helps you break up the cost of your treatment into manageable, monthly chunks. Simply put, even the most extensive treatment plans can fit into your budget.
Cost should never be what stands in your way of the emergency treatment you need, and our team is here to make sure it doesn't. Our goal is to provide you with the quality dental care you need, the compassionate service you deserve, and the guidance necessary to navigate the financial component. Don't hesitate to get in touch with our team for immediate assistance or for further information on handling dental emergencies.
Dental Emergency Frequently Asked Questions
One of my teeth has just been knocked out! What should I do?
First, you should call your emergency dentist in Bergenfield. It's the quickest way to get the care that you need. Try to find the tooth and place it back into your mouth. If you can't, be sure to keep it wet in a container of milk or saltwater until you can see us.
Why does my tooth hurt so much?
A constant throbbing or shooting pain in a tooth usually indicates that the sensitive nerve has been infected or damaged. If the pain is so bad that you can't focus on anything else, you should call us immediately! The longer you wait, the worse the pain will be, and we may even need to extract the tooth. If you get to us soon enough, we'll be able to relieve your pain and save your smile.
One of my fillings/crowns just broke. Can you help?
Yes, we can! Try to find all of the pieces of your filling/crown and call us as soon as you can. We'll be able to put it back in place for you! If any broken or jagged teeth have been exposed, be sure to cover them with a cotton ball or dental wax in the meantime.
Should I ever call 911 for a dental emergency?
Most of the time, no. Many hospitals/clinics will not have the personnel or equipment to properly handle emergency dental care. You'll only be able to find those at a dental practice like Washington Dental Associates. However, if you have injuries to other parts of your body that need immediate attention, be sure to head straight to your local emergency room first. After you are stable, you should still call us.
What are the best ways to avoid a dental emergency?
There are four basic ways you can prevent dental emergencies
Come see us for regular checkups and cleanings so we can catch small issues before they become big problems.
Wear a mouthguard while participating in sports.
Avoid chewing on hard items like ice or rock candies.
Don't use your teeth to open bottles or tricky packages.