Dental Implants — Bergenfield, NJ
The Pinnacle of Tooth Replacement
Are you missing one or more teeth? At Washington Dental Associates, we can help you improve your health and increase your self-confidence with a service known as dental implants. Not only are dental implants a more conservative option than a traditional bridge, they're also more stable and will look, feel, and perform like natural teeth.
If you decide to seek tooth replacement treatment with dental implants or mini dental implants, we'll be with you every step of the way. Our offices in Bergenfield, NJ are equipped to offer complete implant care. That means you can have your entire procedure completed under one roof, from the bone scan and implant placement to the final attachment of your new crown or denture.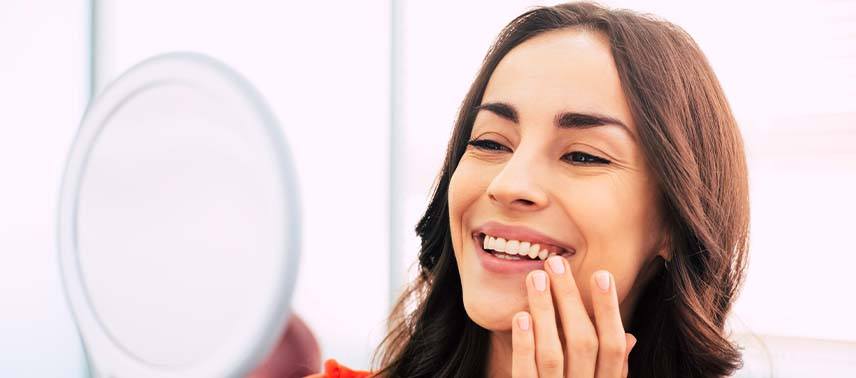 Why Choose Washington Dental Associates For Dental Implants?
Dental Implant Placement & Restoration Under 1 Roof
Advanced Dental Implant Procedures Available
Special Offers to make Dental Implants Affordable
What Are Dental Implants?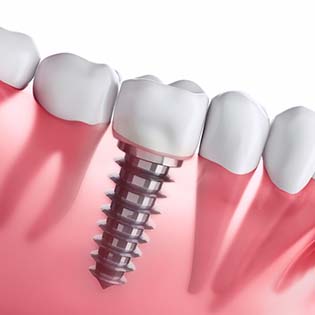 The dental professionals at Washington Dental Associates know how important it is to maintain a healthy, complete smile. When a patient arrives with one more missing teeth, the goal is to not only create an aesthetically pleasing appearance but to also restore (and improve) their oral health. The good news is that we achieve these results with dental implants in Bergenfield. This superior method of tooth replacement is the only option available that replaces a missing tooth's roots as well as its crown, providing unmatched comfort, functionality, and longevity.
The dental implant itself is a small titanium post that can be inserted into the jawbone. As it fuses with the surrounding bone tissue, it replaces the missing root structure. Any number of dental implants can be used to support a custom restoration above the gumline, whether that be a crown, bridge, partial, or full denture. As a dentist in Bergenfield, we're thrilled to provide complete implant care because our patients can stay with a team they already know and trust. Along with decades of experience, we have the advanced training and technology to provide outstanding implant dentistry from start to finish.
The 4 Step Dental Implant Process
While many general dental practices throughout Bergenfield have to refer their patients to separate specialists for the surgical components of dental implant care, Washington Dental Associates enjoys making this process as simple and comfortable as possible. We have the advanced training and experience needed to personally carry out every stage of treatment, from the initial consultation to the surgical placement of the implant(s) all the way to the custom design and creation of the new restoration. Each step of the way, you'll be able to remain with a dental team you already know and trust!
Initial Dental Implant Consultation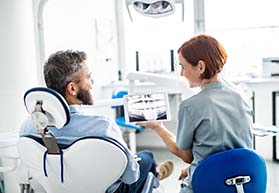 When you arrive for your initial consultation, you'll be greeted by our warm and welcoming staff. We'll escort you back to meet with one of our highly skilled dentists who will discuss the dental implant process. During this time, they will examine your mouth and review your X-rays to determine if there are any problem areas or if your jawbone is strong enough to support the weight of a dental implant.
Once it is determined you are qualified to move forward with this restorative method of tooth replacement, they will map out a treatment plan and provide a thorough estimate regarding the cost of your procedure. If it is necessary for you to have pre-implant dental work because of gum disease or a weakened jawbone, these will be factored into the overall cost.
Dental Implant Surgery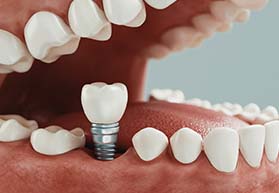 One of the great benefits of seeking treatment from Washington Dental Associates is that we can perform the entire procedure, from start to finish, all under one roof. There is no need for a referral! Not only does this make the process more comfortable and convenient, but our trusted dentists are right there to ensure every step is complete with precision.
To start, your implant dentist in Bergenfield will administer anesthesia before making an incision in your gumline. This will expose the bone area that will serve as the foundation for your dental implants. Carefully positioning and placing the implant, the surgical site will be stitched, and you will be sent home to heal.
Dental Implant Osseointegration & Abutment Placement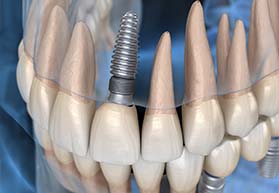 During your time at home, you will spend 3-6 months allowing the implants to fuse to your jawbone and surrounding tissues. This is a process known as osseointegration, and it must occur in order for your implant placement to be functional and successful.
Once you've fully healed, you'll return to our office to have a small appliance added to the top of your implant. Known as the abutment, this piece connects the implant to the custom restoration.
Delivery of Dental Implant Restorations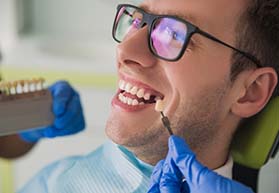 Whether you are receiving a dental crown, implant bridge, or implant denture, placing your custom restoration will be the final step of the process. Dental lab technicians will create your prosthetic based on the digital scans provided by our dental team. This will enable them to match color, size, and shape, so your implant matches beautifully with the rest of your smile.
Benefits of Dental Implants
When it comes to comparing tooth replacement options, you cannot beat the benefits of dental implants. Designed to last a lifetime and provide optimal functionality, these prosthetics stand high above the rest and are considered the gold standard. This is why millions of Americans are already enjoying their many unique benefits, some of which include:
Day-to-Day Benefits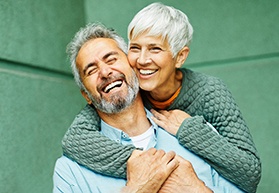 Enjoy a strong bite once again: Dental implants allow you to eat virtually anything. With your treatment complete, you can finally enjoy a diverse diet again.
Natural look and feel: Your implant will feel and look much like a natural tooth. Although it will not have the roots and sensations felt by your other teeth, it will act and function just like your other teeth.
Low maintenance: With dental implants, there's no special product you need to buy to keep it clean. Brushing, flossing, rinsing, and continuing to visit our office for regular visits is enough to keep your implant healthy.
Health Benefits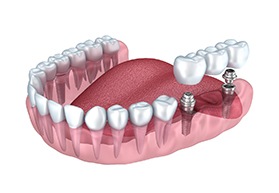 Natural teeth remain untouched: If you want a solution that doesn't hinder your natural teeth, dental implants are the way to go. Why? Because, unlike fixed bridges, there's no need to alter your nearby teeth.
Prevention of bone loss: Once in place, dental implants preserve and strengthen your jaw by stimulating blood flow. Stopping bone loss is essential to enjoying better oral and overall well-being.
Stabilize adjacent teeth – There is no need to worry about dental drift, as dental implants make it easy to keep natural teeth firmly in place. This means they won't move and cause problems that require orthodontic treatment in the future.
Long-Term Benefits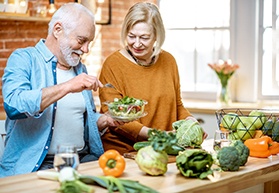 High-success rate – Dental implants are known for having a high success rate of about 95% upon initial placement, making them a highly reliable and effective tooth replacement solution.
Long-lasting: There's no doubt that dental implants are the superior solution if you want a restoration that lasts a long time. With proper care, you can expect your implant to last decades, if not a lifetime.
Cost-effective solution – Other tooth replacement solutions (i.e., dental bridges and dentures) can be costly as the years pass, especially since they require specialized products and frequent adjustments and replacements. Dental implants, however, only need replacement of the restoration, not the posts. As long as you commit to taking proper care of your new teeth, you'll save money in the long run.
Who Dental Implants Can Help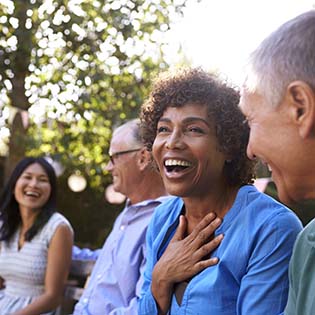 Do you want to know if dental implants are right for you? While many patients are great candidates for treatment, not everyone is initially. During your initial consultation, we'll assess the health and strength of your jaw and make a treatment recommendation. If implants aren't right for you, we'd be happy to discuss alternative solutions or advanced procedures to get you on track for the complete smile you deserve.
Missing 1 Tooth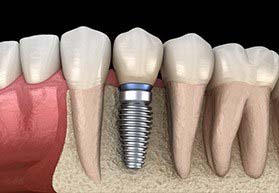 If you're missing just one tooth, the traditional replacement method would be a fixed bridge prosthetic, but bridges require the removal of healthy tooth structure to provide support for the replacement tooth. A dental implant-supported dental crown may provide a viable alternative for some patients.
We simply place an implant post to mimic the lost tooth root. Once this implant post has fused with the jaw and gums, we attach a custom-crafted dental crown that will look just like your lost tooth. Once in place, you can care for your implant-supported dental crown just like you would a healthy, natural tooth. Most patients maintain these replacement teeth for the rest of their lives.
Missing Multiple Teeth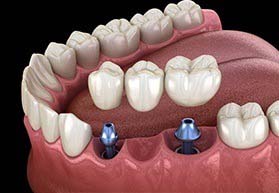 To replace two to four consecutive teeth, we will likely recommend an implant-supported fixed bridge. Traditional fixed bridges use dental crowns on either side of a replacement tooth for support, and implant-supported bridges are very similar. The important difference is that, rather than attaching to healthy teeth, the bridge is anchored with dental implants.
Missing All Teeth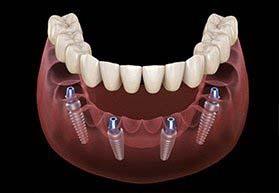 Patients with more advanced tooth would benefit the most from an implant denture.
Implant dentures can typically be held in place with two to five implant posts. Once in place, your fixed denture can be brushed daily as usual, and you will need to visit our office every six months. We'll examine and adjust your fixed denture as needed during these appointments.
Learn More About Implant Dentures
Understanding the Cost of Dental Implants
The number one concern patients have when it comes to dental implant-supported tooth replacement will likely come as no surprise. The cost of treatment gives many patients pause, but despite the larger price tag than other tooth replacement options, dental implants offer numerous benefits. For instance, patients with traditional dentures or bridges will likely pay for numerous replacements over the course of how long a dental implant lasts. For many patients, long-lasting dental implants are well worth the initial time and monetary investment. At Washington Dental Associates, we work with our Bergenfield patients to create a dental implant tooth replacement plan that restores their smile without breaking the bank.
Contact our office to find out more or schedule a dental implant consultation with our team. Keep reading to find out more about the potential costs associated with dental implant placement.
Potential Preparatory Treatments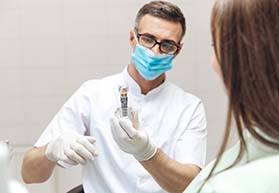 Before we even start the dental implant placement process, patients may need one or more preparatory procedures. For example, patients may need to have one or more damaged or decayed teeth extracted to make way for the brand-new smile. Patients may also need to undergo a bone or soft tissue graft. These surgical procedures allow patients who might otherwise not be good candidates for implant restoration to receive this advanced treatment. By building up the supportive gum and bone tissues, prior to placing dental implants, these patients are much more likely to experience successful implant placement.
The Cost of Dental Implant Posts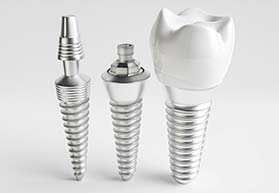 The most obvious expense associated with dental implant tooth replacement is the cost of the dental implant posts and their surgical placement. Your first dental implant will cost between $500 and $2000, depending on the material and manufacturer used. Many dentists still prefer to use the original Swedish titanium implants, as these solutions have shown time-tested success.
After the first implant, additional dental implant posts typically cost progressively less money. By having multiple dental implants placed at the same time, you'll also save money on the procedure and office visit. You may also need to consider the cost of dental sedation. Depending on the type of sedation, your dental or medical insurance may cover part of the cost of these treatments. Unfortunately, the bulk of dental insurance providers do not cover the cost of the dental implants themselves or their surgical placement, but in recent years, some forward-thinking providers have started to cover some of the costs of implant placement. We will work with you and your dental insurance provider to ensure you receive any available benefits.
Costs of Replacement Teeth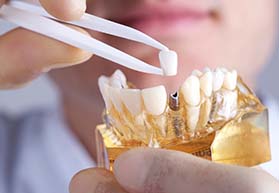 The replacement tooth or teeth will also impact the cost of your overall treatment. Luckily, most dental insurance providers offer coverage for part of the cost of these replacement teeth. From a single dental crown to a full denture, versatile dental implants can be used to support any number of replacement teeth. The cost of these restorations will need to be factored into the overall cost of treatment. In addition to the cost of the crown, bridge, partial, or full denture, you will also need to pay for the cost of any modifications necessary to attach the restoration to the dental implant post.
Are Dental Implants Covered By Insurance?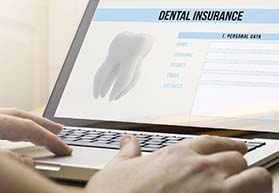 Not usually. However, insurance will typically cover some of the associated services such as exams, X-rays, etc. Since every insurance plan is different, it's well worth it to look into your benefits. And since we know that insurance can be difficult to understand, you can also give us a call and we'll be happy to explain your coverage.
We also offer financing options like CareCredit to break up your payments into monthly installments, as well as an in-house discount plan that can be used for the crown, bridge or denture that completes your implant (not the implant itself). If you'd like to know how you can make dental implants more affordable, give us a call. We're here to help!
Advanced Dental Implant Procedures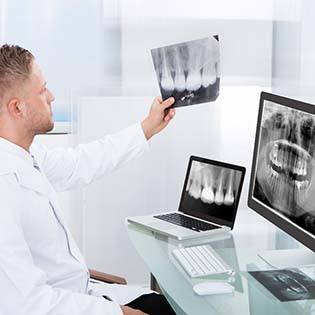 If you've been told your jawbone is too weak for dental implants in Bergenfield, there is a solution that can help resolve the problem. With advanced dental implant procedures such as a sinus lift or bone graft, you can have additional bone minerals placed in the weakened areas of your bone. This not only creates additional bone support, but it also makes it possible to receive dental implants once you've fully healed from the procedure. If you are considering implants for your smile and want to learn more about these advanced dental implant procedures, contact us to schedule an appointment.
Bone Grafting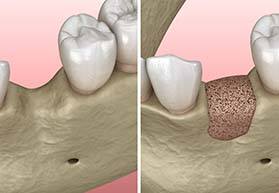 Dental implants are similar to natural teeth because they need to have adequate levels of healthy jawbone around them for strength and stability. Unfortunately, the jawbone begins to deteriorate after the teeth are extracted or lost, leaving some patients with a jaw that's too thin or weak to support implants.
During your consultation, we'll take a special image to evaluate the health of your jaws. If you've lost too much bone density to be a candidate, we'll likely recommend a bone graft in which we add extra bone to your jaw to strengthen and fortify it
When a patient requires extra bone minerals to be used to strengthen a weakened lower jawbone, a bone graft can be completed. The process will require your dentist in Bergenfield to make a small incision in the gums and add bone grafting materials to the area, which encourage the body to rebuild and strengthen the foundation needed for successful implant placement. These materials can come from a variety of places including your own body, animal bone (i.e. pig or cow), a human cadaver or bank bone, or dentin graft.
Once the material is in place, she will close it up, and you will be required to spend the next several months healing at home. It is necessary that you spend an adequate amount of time recovering, as hurrying the process can lead to implant failure.
Sinus Lifts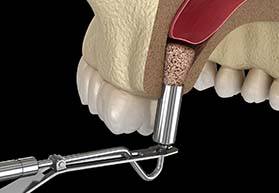 Although it is a similar procedure, when the upper jawbone is too weak, it is called a sinus lift instead of a bone graft. The reason is that your maxillary sinuses live right behind your cheeks and above your upper teeth. Should you need a dental implant in this area, there will be very minimal bone available. Dental implants in this area are difficult to place even if strong bone exists, so in order to ensure the possibility of successful placement, bone grafting minerals will need to be added to this area. This will encourage the bone to grow up into the floor of your sinuses and create a stable foundation.
You can expect the same amount of time for recovery (a few months). Once you're fully healed, you and Dr. LaCap can begin discussions regarding your dental implant procedure and when you can expect to see a fully restored smile again.
Dental Implant FAQs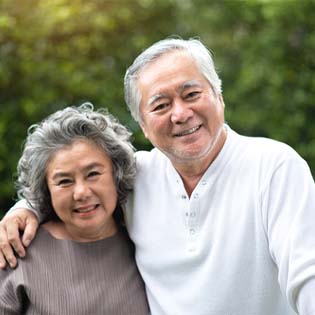 At Washington Dental Associates, our team of dental experts is ready to help you find new life with a healthier, fully functional smile. By choosing dental implants in Bergenfield, you can expect greater confidence, a more youthful appearance, and the ability to eat the foods you love. But no matter where you are in the process of replacing your missing teeth, there's a good chance many of your questions remain unanswered. This is why we are committed to transparent and honest communication with our patients. We hope the answers provided below to some of our patient's most common dental implant questions will provide clarity so you can determine how best to restore your smile.
Will I have to take off work for dental implant surgery?
Yes, it is necessary that you take off 1-2 days if you are having one or two teeth replaced with dental implants. The reason is that rest is required in the initial days after your procedure. If you require more extensive dental implant placement, such as an implant denture, you may find it helpful to take off 4 or 5 days. Should this be necessary, you can schedule your surgery for later in the workweek, allowing the weekend to be part of your recovery time.
Are there any food restrictions with dental implants?
You'll be pleased to learn you can now eat with greater ease thanks to your dental implants. These titanium posts fuse with the bone so you can chew and bite without worrying your teeth will shift out of place or fall out. Maintaining a nutrient-rich diet is now easier than ever, which will not only benefit your oral health but also your body and its ability to function at an optimal level.
The only recommendation our team will extend is to be mindful when eating hard, crunchy foods. This is true for real and artificial teeth, as these items can damage your tooth enamel and implant restorations.
Am I too old to get dental implants?
Fortunately, there's not much of an age cap when it comes to receiving dental implants as you get older. The only thing you must consider is if you possess overall health problems. As you age, these tend to become more prominent, which can pose a potential problem when it comes to your recovery. However, as long as you are working closely with your physician and dentist, you can expect great success when choosing these permanent prosthetics.
Do dental implants ever fail?
It is possible for a dental implant to fail. Although it is extremely rare, certain problems can arise immediately following your surgery or even years later. Peri-implantitis, improper placement, or facial trauma are all reasons you may suffer implant failure. This is why you must remain committed to taking proper care of your oral hygiene once you receive your new teeth, entrust your smile to a skilled implant dentist in Bergenfield, and protect your dental implants by wearing a mouthguard while playing sports or while sleeping if you suffer from bruxism.