Dental Implants – Bergenfield, NJ
The Pinnacle in Tooth Replacement
Are you missing one or more teeth? At Washington Dental Associates, we can help you improve your health and increase your self-confidence with a service known as dental implants. Not only are dental implants a more conservative option than a traditional bridge, they're also more stable and will look, feel, and perform like natural teeth.
If you decide to seek tooth replacement treatment with dental implants or mini dental implants, we'll be with you every step of the way. Our offices in Bergenfield, NJ are equipped to offer complete implant care. That means you can have your entire procedure completed under one roof, from the bone scan and implant placement to the final attachment of your new crown or denture.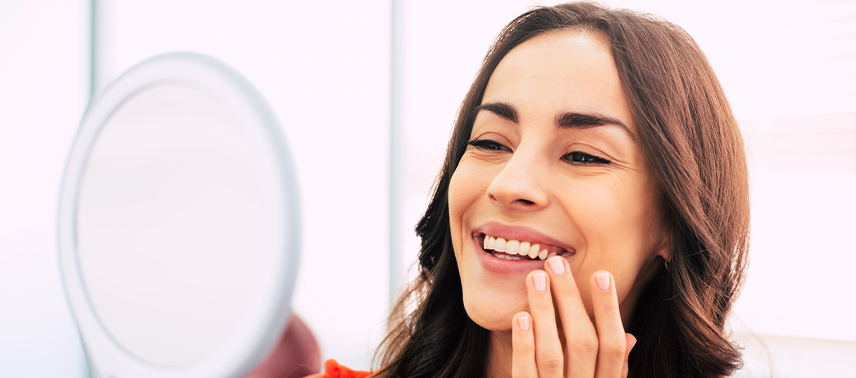 Why Choose Washington Dental Associates for Dental Implants?
Dental Implant Placement & Restoration in 1 Office
Replace A Single Missing Tooth, Multiple Teeth or An Entire Arch
Unhappy with the Results? You Get Your Money Back
Benefits of Dental Implants
"Do You Offer Dental Implants?"
Dental implants are designed to give you more natural results by replacing your missing tooth roots in addition to your missing teeth. Once in place, they'll preserve and strengthen your jaw by preventing bone loss. Stopping bone loss is essential to enjoying better oral and overall wellbeing. What's more, implants allow you to eat virtually anything. With your treatment complete, you can finally enjoy a diverse diet again.
Additionally, dental implants have an incredibly high success rate when placed by a professional. On average, clinical studies have shown rates to reach between 95 and 98%, even after 10 years of use! Considering that dental implants tend to last anywhere between 25 years and a lifetime, that's not something you can expect from more traditional methods of tooth replacement. It truly is the most aesthetically pleasing and functional option in dentistry to date.
Indications for Dental Implants
Do you want to know if dental implants or mini dental implants are right for you? While many patients are perfect candidates for treatment, not everyone is. During a special consultation, we'll assess the health and strength of your jaw and make a treatment recommendation. If implants aren't right for you, we'd be happy to discuss alternative solutions
Missing Single Tooth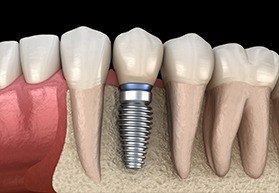 If you're missing just one tooth, the traditional replacement method would be a fixed bridge prosthetic, but bridges require the removal of healthy tooth structure to provide support for the replacement tooth. A dental implant-supported dental crown may provide a viable alternative for some patients.
We simply place an implant post to mimic the lost tooth root. Once this implant post has fused with the jaw and gums, we attach a custom-crafted dental crown that will look just like your lost tooth. Once in place, you can care for your implant-supported dental crown just like you would a healthy, natural tooth. Most patients maintain these replacement teeth for the rest of their lives.
Missing Multiple Teeth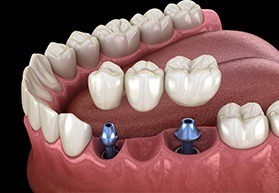 To replace two to four consecutive teeth, we will likely recommend an implant-supported fixed bridge. Traditional fixed bridges use dental crowns on either side of a replacement tooth for support, and implant-supported bridges are very similar. The important difference is that, rather than attaching to healthy teeth, the bridge is anchored with dental implants.
To replace two consecutive teeth, we may be able to fuse together the replacement teeth and anchor them to the same implant post. For three or more missing teeth in a row, a fixed bridge will need to be attached to at least two implant posts, one on each end. Once in place, you can care for your implant-retained denture much like you do your natural teeth. In some cases, you'll need to use a special type of floss to clean between the prosthetic and the gum line.
Missing All Teeth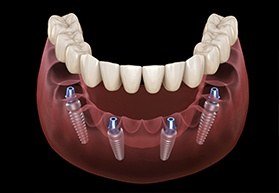 Patients with more advanced tooth loss, including numerous consecutive and nonconsecutive teeth and full rows of teeth, will need to consider a partial or full implant-supported denture.
Both partials and full dentures rely on a gum-colored base material to support numerous teeth as part of one tooth replacement prosthetic. Partial dentures are molded to fit snuggly between teeth, and traditional partials are held in place with metal clasps that attach to remaining teeth. Traditional full dentures are formed to fit against the gum line, which creates suction that holds the denture in place.
Implant-retained partials and full dentures can typically be held in place with two to five implant posts. Once in place, your fixed denture can be brushed daily as usual, and you will need to visit our office every six months. We'll examine and adjust your fixed denture as needed during these appointments.
Start-to-Finish Convenience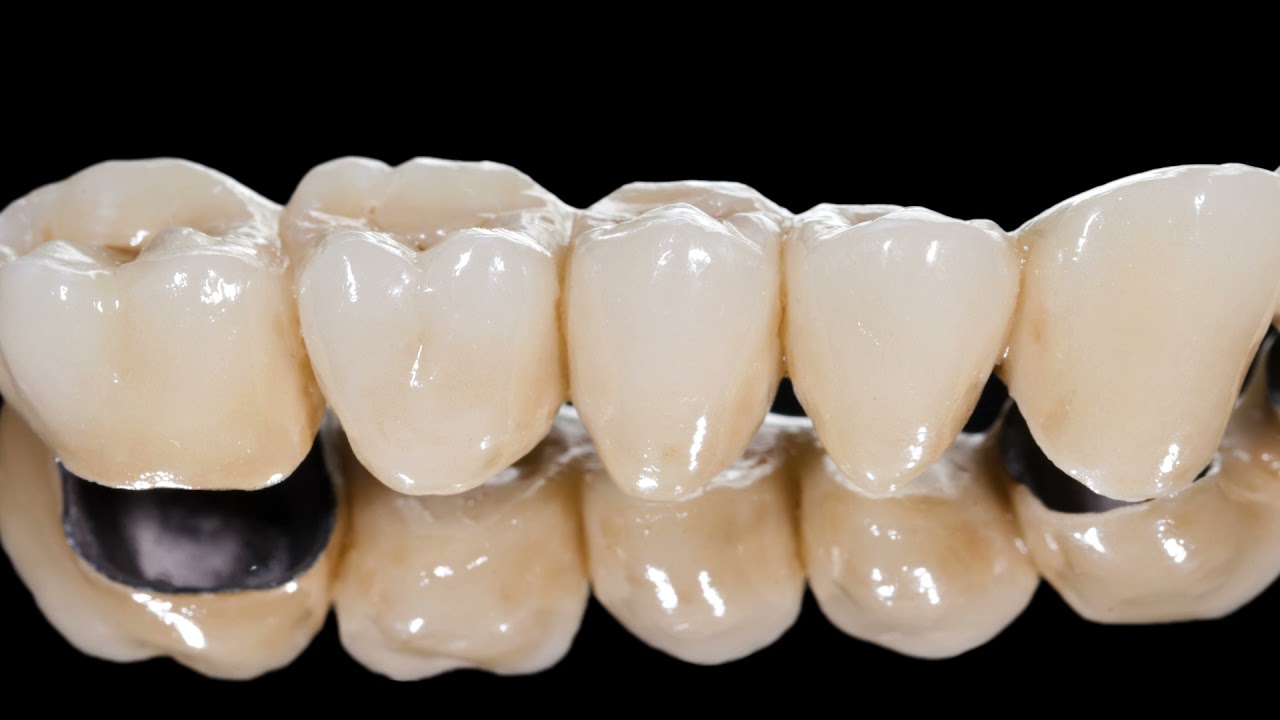 "Are Dental Implants Affordable?"
While many general dental practices throughout Bergenfield have to refer their patients to separate specialists for the surgical components of dental implant care, Washington Dental Associates enjoys making this process as simple and comfortable as possible. We have the advanced training and experience needed to personally carry out every stage of treatment, from the initial consultation to the surgical placement of the implant(s) all the way to the custom design and creation of the new restoration. Each step of the way, you'll be able to remain with a dental team you already know and trust!
Understanding the Cost of Dental Implants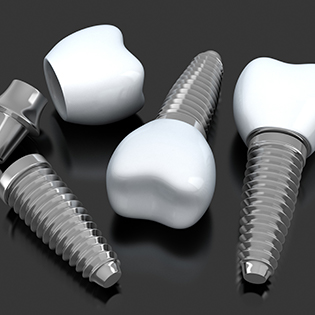 The cost of treatment gives many patients pause, but despite the larger price tag, dental implants offer numerous benefits. Keep in mind that the cost of your treatment will largely vary based on your needs. For example, those who need multiple implants placed and a more complex restoration to pair with it will need to pay more. If you have preparatory treatments to consider as well, such as bone or soft tissue grafts, this will result in higher costs and longer treatment times.
For many patients, long-lasting dental implants are well worth the initial time and monetary investment. For instance, patients with dentures could go through three sets of partial or full dentures in the twenty years that most dental implants last!
Learn More About the Cost of Dental Implants
How Dental Implants Work
If you've decided that dental implants in Bergenfield are the right solution for you, you probably have lots of questions, especially as it pertains to the actual procedure. From the initial consultation to the final placement of the custom restoration, you can feel confident knowing the professionals in our office will be with you every step of the way. Not only will we discuss the treatment plan, but we'll even put the implants in ourselves! When having your dental implants put into place, you can trust us to make sure it's done right.
Learn More About How Dental Implants Work
Advanced Dental Implant Procedures
If you've been told your jawbone is too weak for dental implants in Bergenfield, there is a solution that can help resolve the problem. With advanced dental implant procedures such as a sinus lift or bone graft, you can have additional bone minerals placed in the weakened areas of your bone. This not only creates additional bone support, but it also makes it possible to receive dental implants once you've fully healed from the procedure.
Learn More About Advanced Dental Implant Procedures
Start Exploring Dental Implants Today!
Call Washington Dental Associates to reserve your consultation. We offer complete implant care to patients from Bergenfield, Dumont, New Milford, Teaneck, Cresskill, and Tenafly, New Jersey.
Dental Implant FAQs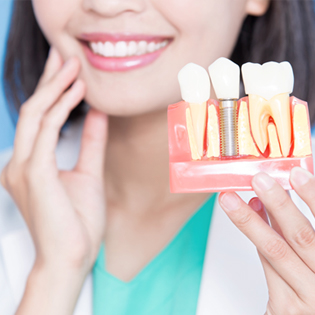 Still have a few questions about dental implants in Bergenfield? You're not alone! Many people ask for more information before making a decision, which we entirely understand. Our experienced team has helped hundreds of patients understand the process better and has put together answers to several implant FAQs below. But if there's anything else you'd like to know or if you simply want to schedule a consultation, contact us anytime!
Am I a Good Candidate For Implants?
Dental implants work wonderfully for most people but there are some situations in which another replacement option is a better choice. For example, for someone with advanced gum disease, an implant may not have the support it needs to stay healthy over the long-term. In other cases, a patient's general health makes it difficult for them to heal properly after the procedure (e.g. unmanaged diabetes or immune disorders).
Since everyone is different, we recommend starting with a consultation so we can take a look at your needs and create the best treatment plan for you.
Can I Have the Entire Procedure Done In Your Office?
Yes! As a dentist in Bergenfield, we're thrilled to provide complete implant care because our patients can stay with a team they already know and trust. Along with decades of experience, we have the advanced training and technology to provide outstanding implant dentistry from start to finish.
Will I Need To Take Time Off Work?
In terms of the recovery process, implant surgery is somewhat similar to an extraction, and we typically tell our patients to take 2-3 days off to recover afterward. In fact, some people prefer to schedule their procedure on a Thursday or Friday so they can recover over the weekend.
What Is a Bone Graft and Will I Need One?
Dental implants are similar to natural teeth because they need to have adequate levels of healthy jawbone around them for strength and stability. Unfortunately, the jawbone begins to deteriorate after the teeth are extracted, leaving some patients with a jaw that's too thin or weak to support implants.
During your consultation, we'll take a special image to evaluate the health of your jaws. If you've lost too much bone density to be a candidate, we'll likely recommend a bone graft in which we add extra bone to your jaw to strengthen and fortify it.
Are Implants Covered By Insurance?
Not usually. However, insurance will typically cover some of the associated services such as exams, X-rays, etc. Since every insurance plan is different, it's well worth it to look into your benefits. And since we know that insurance can be difficult to understand, you can also give us a call and we'll be happy to explain your coverage.
We also offer financing options like CareCredit to break up your payments into monthly installments, as well as an in-house discount plan that can be used for the crown, bridge or denture that completes your implant (not the implant itself). If you'd like to know how you can make dental implants more affordable, give us a call. We're here to help!