Mouthguards – Bergenfield, NJ
Protect Your Child's Smile with Athletic Mouthguards
Sports-related injuries are the leading cause of tooth loss for patients under the age of 25, so it's important to Tappan pediatric dentist, Dr. Darren Tong and the entire Smile More Kidz team that your child's smile is protected during all athletic practices and competitions. If your child engages in any athletic events where their smile may be at risk for injury caused by impact with other players, hard surfaces, or sports equipment, you should make sure they always wear a mouthguard to protect their smiles. Call our team to find out more about sportsguards or schedule an appointment.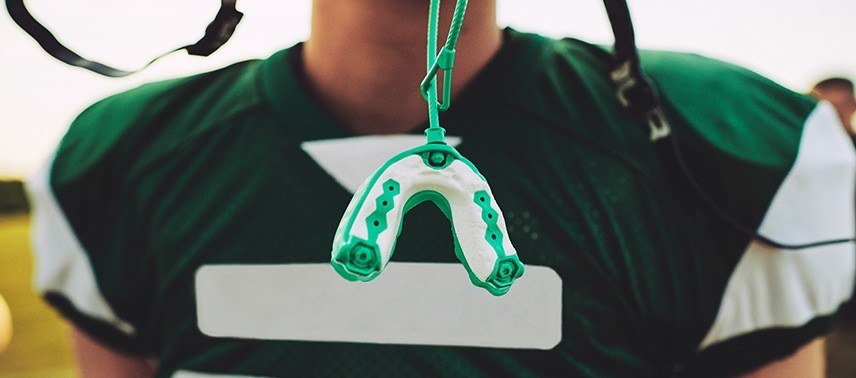 Why Choose Washington Dental Associates for Mouthguards?
We Care For All Ages
Custom-Made appliances, just for you
Outstanding Efficiency & Craftsmanship
Store Bought Mouthguards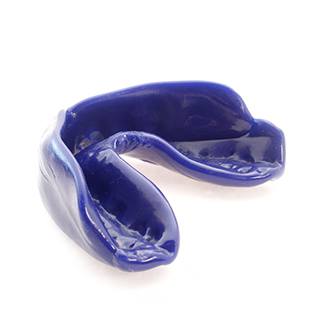 There are a variety of over the counter mouthguards available from your local sporting goods store. Boil and bite guards are the most popular solutions because they can be most closely molded to your child's smile. These guards provide adequate protection, but many kids find it difficult to adjust to wearing these guards because they are bulky, making kids less likely to wear their sports guards consistently.
Custom Crafted Sportsguards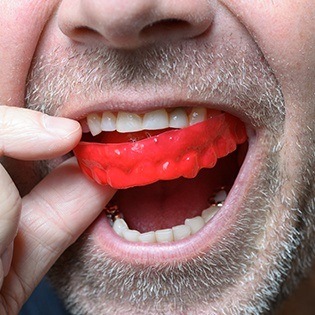 If you're looking for the most comfortable solution for your child, our custom sportsguards offer optimal comfort and protection. They fit snugly against the teeth to prevent discomfort or gagging. Due to the increased comfort, your child will also be more likely to wear their mouthguard consistently.
Why Your Child Needs a Mouthguard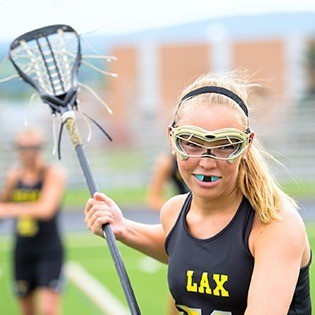 We all want to keep our kids safe, and suiting them up with right protective gear for athletic events and competitions is part of that. However, many parents aren't aware of how important it is to have children wear protective mouthguards on a regular basis. Sports related injuries are the leading cause of tooth loss for patient under the age of 25. For that reason alone it's recommended that children (and adults) wear a protective mouthguard during any athletic practice of competition. Most parents know their youth football or hockey players need to wear a mouthguard, but any sport where a patient's mouth may come in contact with athletic equipment, hard surfaces, or other players requires a mouthguard. That means kids should wear their mouthguards for sports like basketball, tennis, cycling, and swimming as well as for those athletic activities consider to be high impact. In addition to reducing risk for dental damage, some early research indicates that regularly wearing a mouthguard may reduce the risk for concussion. Further research is still needed, but the early indications are that kids who wear mouthguards experience fewer and less severe concussions than those who do not.
Taking Care of Mouthguards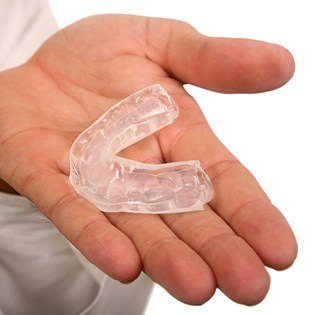 Once your child has a mouthguard, either a custom guard or a store bought solution, you will need to help them care for it. Without proper maintenance, mouthguards can lose their shape or become damaged, and they need to be fully intact to ensure patients receive the maximum protection. After every practice or sports event, the mouthguard will need to be carefully cleaned. Remember to always use cool water to avoid unintentionally reshaping the guard. Completely rinse off the sportsguard with cool water, and use a toothbrush to clear away any stuck-on substances. You may also want to consider sanitizing the mouthguard in a solution of half antibacterial oral rinse and half water overnight to remove any bacteria buildup. When not in use, the mouthguard should be stored in a protective case at room temperature to prevent warping or damage. If the sportsguard did not come with a carrying case, any sturdy container with a lid will work just fine. If you notice your child is not using their mouthguard consistently, check in to make sure it still fits comfortably. Our team will be happy to check the fit of your child's sportsguard during six month dental checkups, so don't forget to bring them along to the appointment. Mouthguards will typically be usable for one or more sports seasons, but if you notice damage or change in the shape of the sportsguard, you may want to exchange them sooner.