Implant-Retained Dentures – Bergenfield, NJ
Healthy Smiles after Advanced Tooth Loss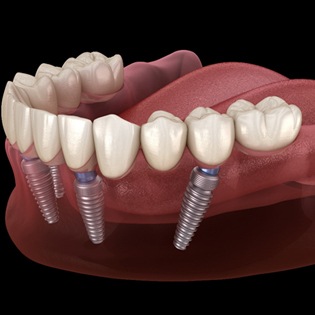 If you've suffered severe tooth loss, you may think that your days of having a healthy smile are long behind you. Although replacing your missing teeth with dentures on their own does enable you to chew some foods, your biting force is dramatically reduced. It can become much more difficult to make nutritious choices in your diet and can lead to a myriad of health issues. In fact, those who replace their teeth with just dentures have a lower life expectancy by 10 years! However, with implant-retained dentures, you can regain a fully functional, strong, and beautiful set of teeth and have a higher quality of life.
Why Choose Washington Dental Associates for Implant-Retained Dentures?
Implant Placement & Restoration under One Roof
Satisfaction Guaranteed
Experienced Dental Experts
How Do Implant-Retained Dentures Work?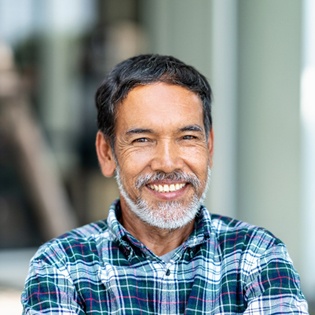 Traditional dentures rest on top of the gum surface, relying on suction or metal clasps to remain in place. In contrast, implant-retained dentures are secured by the implants—by either being bolted down or snapping into place but still remaining removable. Mimicking natural tooth roots, the titanium posts, which become firmly integrated into the jaw bone, provide a strong foundation for the replacement teeth and prevent the dentures from slipping.
Am I a Candidate for Implant-Retained Dentures?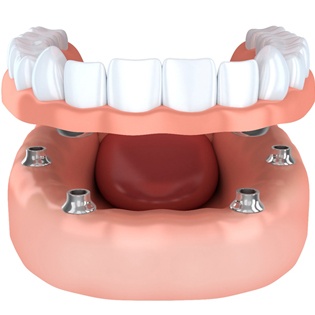 In an ideal world, everyone would qualify for implant-retained dentures, but there are certain criteria that need to be met. For example, you must be in good oral health, and you must have sufficient jaw bone to support the implants. Otherwise, you could experience failure. Our dentists here at Washington Dental Associates can perform a thorough evaluation to determine whether implant-retained dentures would be a good fit for you. Keep in mind that, even if you aren't a good candidate right now, we may be able to address whatever is holding you back. If you have an oral infection, for instance, we can treat it and get you back to oral health before reconsidering implant-retained dentures.
The Implant-Retained Dentures Procedure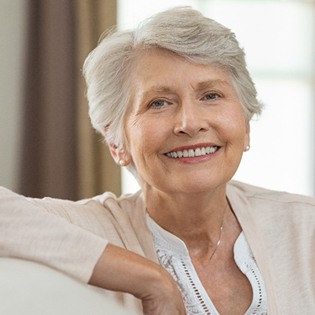 Once we've determined that implant-retained dentures are the right treatment choice for you, the process of getting them goes as follows:
One of our specialists will surgically place the requisite number of implants (two or more for partials and four to six for full) into the jaw bone.
Your gum tissues will heal and the jaw bone will grow to surround the implant over the course of several months.
We will place an abutment or connector piece to each implant.
Then, we will take impressions of your mouth and create custom dentures.
Finally, we'll attach the dentures to the implants either with snaps or by bolting them down.
Benefits Of Combining Dentures & Dental Implants
When you put dentures and dental implants together, you gain so much more than having dentures by themselves, including these benefits:
More confidence—you don't have to worry about your replacement teeth coming loose.
Stronger bite—grounded by the implants, you are able to bite, chew, and grind food nearly as well as you used to with your natural teeth.
Better oral health—the posts act like natural tooth roots and keep the jaw bone healthy and stimulated.
More youthful appearance—instead of becoming weak and appearing saggy with age, your jaw bone can retain its shape for many years to come.
Are you interested in learning more about implant-retained dentures? Are you ready to have a healthy smile again? Contact our team in Bergenfield to schedule your consultation today!