Glo Whitening – Bergenfield, NJ
Dramatic Results for Brighter Smiles
Tooth stains and discoloration are never a welcome sight. As you age, it is natural for normal wear and tear to cause a slight change in the appearance of your teeth; however, years of drinking coffee, smoking, and other bad habits can speed up the process, causing you to scramble for a quick solution. At Washington Dental Associates, we are pleased to offer our patients teeth whitening in Bergenfield. Using the GLO Whitening system, you can expect dramatic, beautiful results. Instead of relying on store-bought kits that don't deliver the whiter smile you want, contact us to schedule a consultation and learn how you can get started today.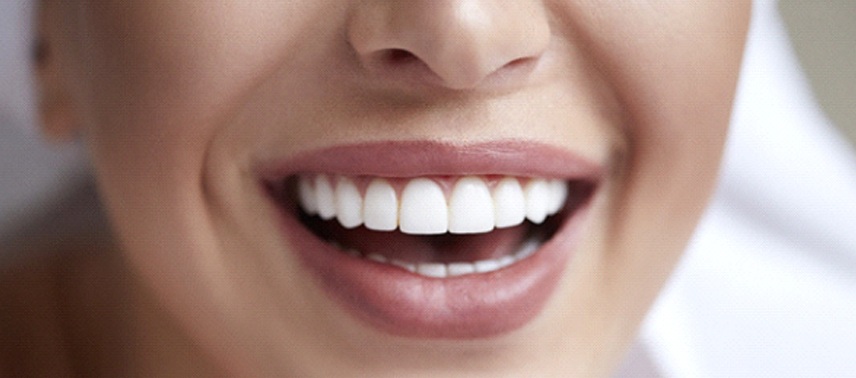 About GLO Professional Whitening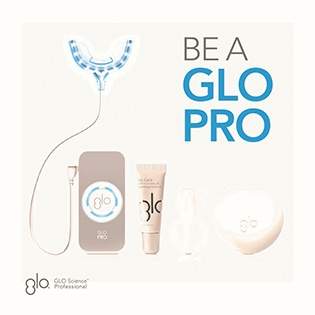 A beautiful, healthy, white smile has the power to change your life and make you GLO - inside and out!
We are proud to be a certified GLO Science dental practice, offering our patients the very best teeth whitening experience and results available anywhere - with faster appointments, superior results, and little to no sensitivity.
We offer a variety of GLO teeth whitening options that fit your lifestyle and whitening needs, available exclusively through certified GLO dental practices like ours. Let us help you reach your full smile potential and customize the best whitening treatment for you!
Book your GLO whitening appointment today!
How GLO Whitening Works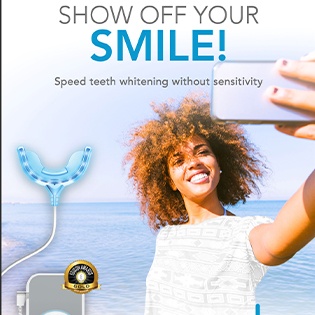 Depending on your personal preferences, you can choose to whiten your smile with the help of one of our professionals in-house or by choosing to use one of our customized take-home kits. No matter which method you choose, you'll be pleased with the results.
Get dramatically whiter teeth in under 32-minutes in style and comfort - and without pain! The GLO whitening mouthpiece uses a patented combination of warming heat and light technology to speed up the whitening process for safe, clinically proven, professional whitening results with little to no sensitivity. Using the designated GLO system, we will apply the professional-grade bleaching gel to your teeth before inserting a specialized light that is designed to penetrate the tooth enamel and blast away surface and deep-down stains. It is safe and effective and can brighten your smile up to 10 shades in one visit.
Should you choose the take-home kits we provide, you'll receive a set of custom-made whitening trays designed based on your impressions as well as the high-grade whitening gel. Once you are at home, you will dispense the gel into the trays according to the instructions provided. Wearing your trays for 1-1.5 hours h day, you'll begin to notice a change in the color of your smile in about two weeks.
What Are the Benefits?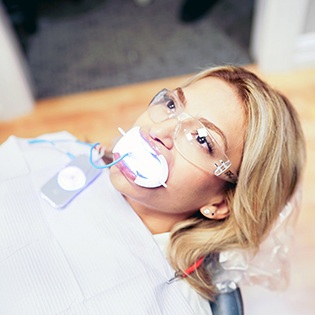 Although it may be tempting to save your money and instead, purchase one of the many store-bought whitening kits at your local drug store, you will discover that you'll actually spend more money in the long run because of the lackluster results you'll encounter. With professional teeth whitening, you can expect the benefits to far outweigh those found with over-the-counter solutions, such as:
A safer and more effective treatment administered by a skilled cosmetic dentist in Bergenfield
Less mess and a reduced risk for soft tissue irritation
Proven results that can appear in as little as one hour
The use of high-grade bleaching gel that will effectively blast away stains, keeping your teeth brighter for longer
A cost-effective solution when you consider how many times you'll need to purchase a store-bought kit to achieve similar results
Reduced chances of tooth sensitivity following treatment
How to Maintain Your Results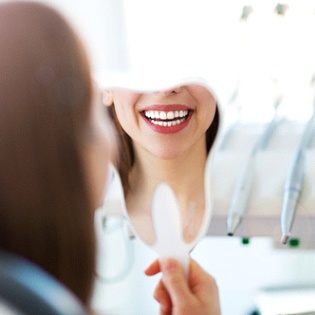 Maintaining your teeth whitening results ultimately depends on how well you commit to taking care of your teeth after treatment. Normally, your whiter smile can last six months or more, but you must make sure you're doing the following:
Avoiding dark-colored foods and beverages
Avoiding the use of tobacco products and smoking
Maintaining good oral hygiene by brushing twice a day for two minutes, flossing at least once a day, and rinsing with an antimicrobial mouthwash
Keeping your regularly scheduled dental checkups and cleanings
Avoiding using your teeth as tools to open packages and containers