Treating Bad Breath – Bergenfield, NJ
Banish Bad Breath For Good
If you have chronic bad breath (also known as halitosis), you may think this is a relatively harmless issue that you deal with as best you can with thorough oral hygiene, gum, or breath mints. However, this oral health condition, especially if it's not improved after your oral hygiene routine, may actually be treatable with more advanced services from the team at Washington Dental Associates in Bergenfield. If you want to learn more, call for a consultation. If you struggle with halitosis, our office is happy to offer treatment for this troubling condition to patients from Bergenfield, Dumont, New Milford, Teaneck, Cresskill, Tenafly, and all other surrounding communities.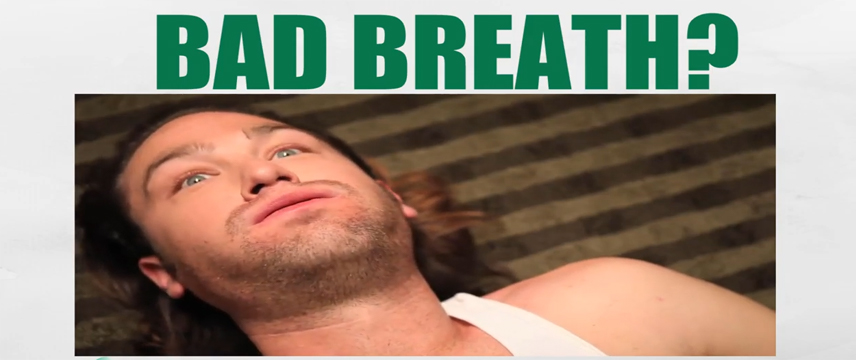 We have a solution for you! Schedule your FREE exam and consult and we can get rid of your bad breath. Sometimes all you need is a professional cleaning. We will clean your teeth comfortably and remove surface stains so your smile will be brighter and your breath fresher. A professional cleaning is always the first step. If you need more than that, we can guide you towards eliminating bad breath completely through more advanced and gentle treatment. Don't wait any longer and schedule your appointment today. You deserve to smile and talk confidently!
Why Choose Washington Dental Associates for Help Treating Bad Breath?
Compassionate & Experienced Dentists
Comprehensive Periodontal Therapy
All Ages Welcome
What is Halitosis?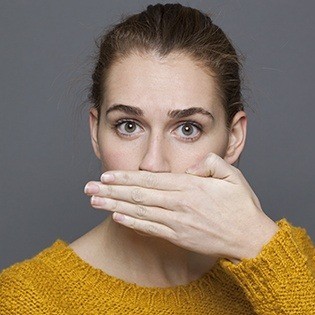 Research has shown that over 90 million people struggle with chronic bad breath. This condition, known as halitosis, can have a range of causes, but the most common is poor oral hygiene. Failing to brush and floss will leave decaying food particles or bacteria in the mouth, resulting in the unpleasant sulfur compounds that define bad breath. However, frequent bad breath isn't just a sign of poor oral hygiene. It's also a symptom of periodontal disease, commonly known as gum disease. This very serious condition affects a majority of the U.S. adult population and can make patients susceptible to a range of issues. There are also a wide range of other issues that may cause halitosis, but there's also good news for patients who struggle with it—it's treatable!
Causes of Chronic Bad Breath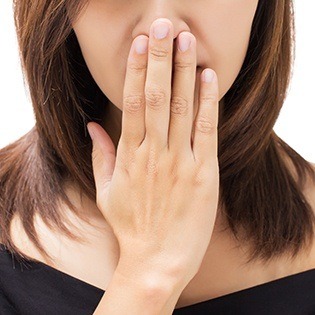 While poor oral hygiene, gum disease, and bad breath-causing foods are the leading causes of halitosis, there are other reasons why patients may experience these issues. In addition to the common oral hygiene related halitosis, chronic bad breath has a number of other causes, including:
Dry mouth – This oral health condition can allow plaque to build up on teeth and break down tooth enamel.
Medications – Some medications can lead to dry mouth or metallic odors.
Oral infection – If you notice swelling or sores in the mouth, you may have an oral infection that can cause bad breath.
Tonsillitis – Infection or sickness in the tonsils can lead to foul breath.
Other disease – A variety of other disease, especially those relating to digestion, can also lead to bad breath.
How Is Bad Breath Treated?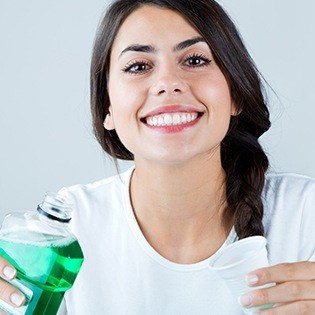 If you're one of those 90 million people with chronic bad breath, we can provide treatment that will kill the bacteria in your mouth and give you renewed confidence. Our treatment plan begins with a thorough exam to identify any underlying dental or medical health problems. We'll also suggest an oral health care plan that includes regular cleanings, brushing twice a day, flossing at least once a day, and tongue cleaning. Some patients may benefit from professional breath treatment products as well. Most people notice an immediate improvement. Every patient is different, so we will take the time to personalize the treatment to address the specific underlying cause of your bad breath.
Tips to Improve Bad Breath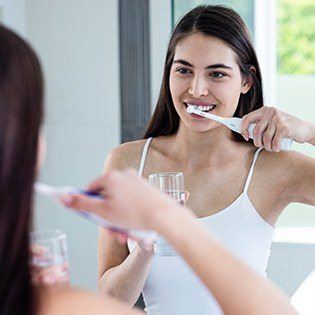 If you're struggling with chronic bad breath, there are some steps you can take to keep your smile healthy and breath fresh before visiting the dentist's office. Some of the basic ways to keep your breath fresh include:
Brush teeth for at least two minutes at a time twice a day.
Floss daily.
Always brush your tongue, gums, and soft tissue.
Use antimicrobial mouth rinse between meals.
Drink plenty of water, especially if you have dry mouth.
Clean dentures, sleep apnea devices, and other oral appliances thoroughly each day.
Chew sugar-free gum after meals to remove food particles and improve breath.
If you suffer from dry mouth, use a moisturizing oral rinse and/or suck on a sugar-free lozenge.