General & Family Dentistry – Bergenfield, NJ
Children, Teens, Adults & Grandparents Welcome
General and preventive dentistry is the foundation of good oral health. When you come to us for dental checkups and exams, we'll carefully examine each tooth for any possible problems. Once we've completed your exam, we'll provide you with customized education and instruction so you can maximize your dental health and avoid possible future pain and expense. Based on the results of your exam, we may recommend treatment with one of these services, or any of our other general, cosmetic, and restorative services. We're committed to providing personalized service to our patients from Bergenfield.
Why Choose Washington Dental Associates for General & Family Dentistry?
We Care For All Ages
Dedicated General Dentists With Decades of Experience
Outstanding Punctuality & Workmanship
Dental Checkups & Cleanings
Why is it important to visit the dentist every six months?"
Routine dental cleanings and exams are essential, no matter what age. Even young children need to see your family dentist at least twice a year for routine dental cleanings and exams. That's why our Bergenfield offices are proud to serve your entire family.
When you come for a visit, our gentle hygienists will clean your teeth and inspect your gums for any signs of gum disease. Not only is gum disease the leading cause of tooth loss in adults, it can make patients more susceptible to a range of other health problems as well. Our hygienists are trained to detect, deter, and treat gum disease before it becomes a serious issue. We always want to treat it—and any other oral health problem—as soon as possible to prevent more advanced trouble later on.
If we find anything during your visit that requires additional care, we'll be happy to discuss your treatment options with you. We can also answer questions you may have. We want every one of our patients to be fully informed of their needs and options so they can make the most educated choices possible.
Learn More About Oral Health Care
Nightguards for Bruxism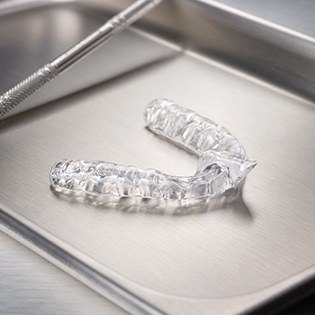 If you react to stress by grinding or clenching your teeth, you may struggle with a serious condition known as bruxism. Common symptoms of bruxism include sore jaw, headaches, and earaches. If left untreated, it can harm your teeth as well as the muscles and tissues around your jaw. It can even contribute to problems like TMJ dysfunction, insomnia, eating disorders, and depression.
Thankfully, relief is possible with a special oral appliance known as a nightguard. For many patients, simply wearing a nightguard is enough to eliminate the problem. Worn while your sleep, a nightguard will protect your teeth and prevent them from grinding together. Your nightguard will be custom-made for you after an initial consultation at our Bergenfield office.
Mouthguards/ Sportsguards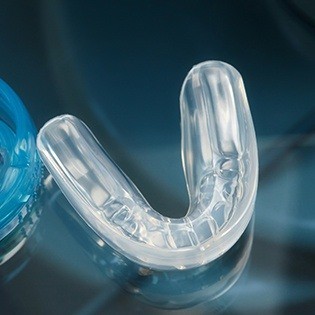 If you or a loved one regularly participates in athletic events that include physical contact, protecting the teeth and lips from harm should be an important priority. Instead of grabbing a "one size fits all" mouthguard from the local sports store, our dentists encourage families to invest in customized sportsguards here in Bergenfield. Why? Because these high-quality devices are designed around the wearer's unique mouth, resulting in much more comfort and flexibility while still maintaining a durable barrier against unexpected collisions.
Oral Cancer Screenings
How do you screen for Oral Cancer?"
Did you know that oral cancer kills one person on average every hour here in the United States? Early intervention is an absolutely vital part of stopping this dangerous health condition in its tracks, which is why our team has integrated oral cancer screenings into routine checkups and cleanings. Better yet, we use VELscope technology, which scans the mouth with specialized white light in order to clearly illuminate abnormal tissue that could contain cancerous cells.
Fluoride Treatment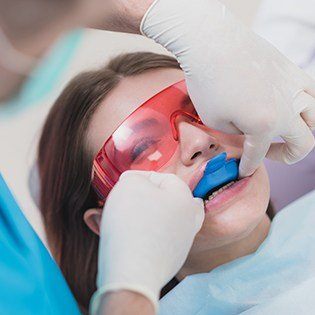 Fluoride is a natural mineral that can be found in more places than you think – many of the foods we eat, the oral hygiene products we use, and even (most likely) the water that comes out of your sink at home. Routine exposure to fluoride actually has a very positive effect on oral health, strengthening tooth enamel and helping to reduce your overall risk of cavities, especially in children. At Washington Dental Associates, we recommend professional fluoride applications during routine checkups and cleanings as an added boost of smile protection.
Schedule An Appointment Today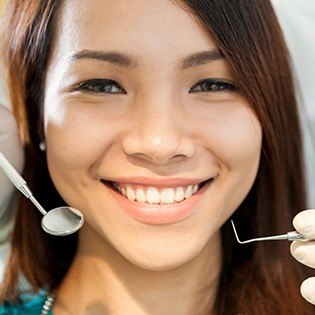 For optimal oral health, we recommend visiting either Washington Dental Associates at least twice a year for routine care. Call our office today to reserve your next visit. We offer general dentistry to patients from Bergenfield, Dumont, New Milford, Teaneck, Cresskill, Tenafly, and beyond.