Advanced Dental Technology
Modern Dentistry That Inspires Smiles
Whenever you visit Washington Dental Associates, we want to provide a safe, comfortable clinical environment that's equipped with the most advanced tools and techniques available! This commitment includes laser dentistry, digital cavity detection with DIAGNOdent, and much more. Contact us today in Bergenfield, NJ if you're ready to schedule a first appointment for yourself or a family member. You can also call us if you'd like to learn more about any of the listed technologies below!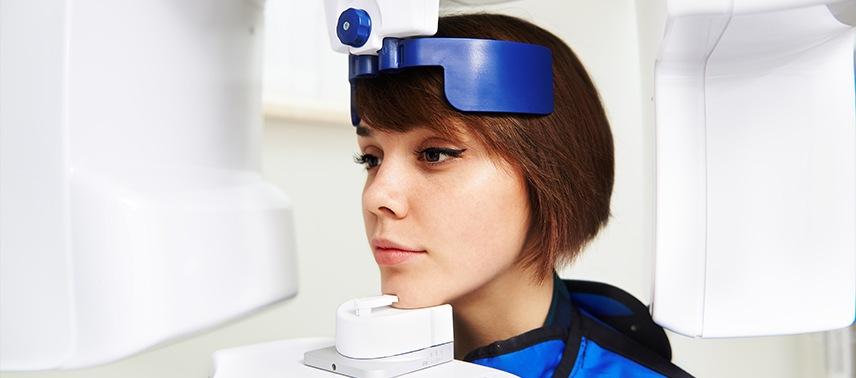 Intraoral Cameras
To provide you with the most accurate and personalized service possible, we use intraoral cameras. An intraoral camera looks like a small, pen-sized wand. During your appointment, we may use one to take a video of the inside of your mouth. The camera will broadcast what it sees on a TV screen that you and your doctor can see together. The benefit of this, for you and your dentist, is that it highlights areas of the mouth that can be hard to see with the naked eye alone.
Seeing your dental problems up close may be overwhelming at first, but it will help us as we talk to you about your needs and your treatment options. Few patients have a clear idea of how their smile is doing. Using our intraoral cameras, we hope to change that.
Digital X-Rays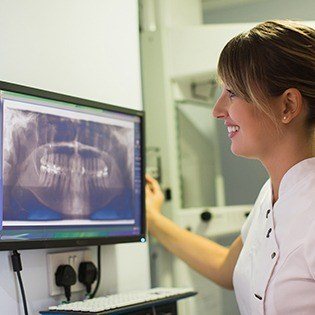 At Washington Dental Associates, traditional film X-rays have been safely left in the past. When viewing components of your oral health that are well-hidden beneath bone and tissue, we use digital radiography for a faster and more precise diagnostic experience – no more darkrooms required! Better yet, this technology helps our team minimize radiation by a significant degree, which makes the experience much safer for patients of all ages.
Learn More About Digital X-Rays
Digital Imaging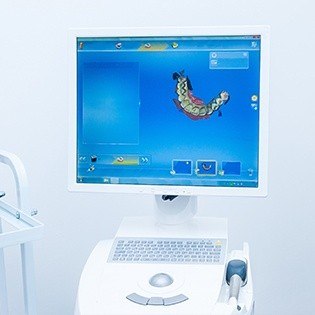 It can be difficult to commit to a cosmetic or restorative plan when you aren't sure what kind of results to expect. After all, changing your smile can almost feel like changing to your identity—permanently. Thankfully, with digital imaging, there's a way to glimpse your future before committing to advanced care. Using digital imaging, we can manipulate photos of your smile to reflect the changes you're recommending. Maybe you're considering a procedure like teeth whitening, porcelain veneers, or dental implants. In each of these cases, digital imaging lets us show you your future.
The process is simple. Once your dentist has completed your exam and discussed your treatment plan, we'll use a range of current digital photos to generate one or more new images showing you what you can expect from your treatment. You can refer to these images as you consider your options. You can even share them with your friends or family to get their feedback.
CT/Cone Beam Scanner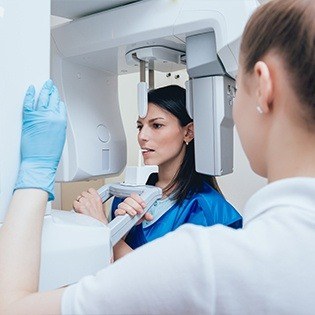 While traditional X-rays are a vital part of the dental care process, their two-dimensional nature does have some limitations. When planning particularly advanced procedures where precision is key (such as surgical dental implant placement and root canal therapy), we rely on the state-of-the-art power of our Instrumentarium Cone Beam instead, which captures a full, 360-degree view of the dental structures and compiles them into a comprehensively detailed, three-dimensional model.
Digital Impression System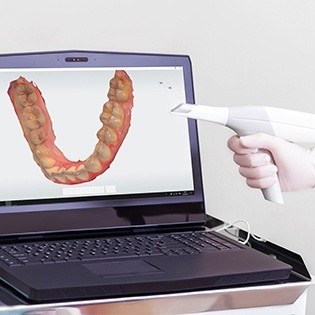 Many older patients surely remember the days of sitting very still in the treatment chair while their dentist pressed a trayful of putty material over their teeth in order to create an impression. While this process was a vital part of creating new dental restorations and/or oral appliances, it often left participants feeling very uncomfortable or even ready to gag. At Washington Dental Associates, we're proud to now offer fully digital impressions with the help of iTero and CEREC! We can create a highly accurate model of certain teeth with just a few no-contact scans of the mouth – no putty required.
Soft Tissue Laser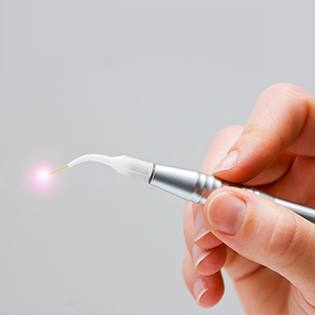 Lasers are definitely the future of the dental world, and it's not hard to understand why! They've offered dentists highly precise, minimally invasive alternatives to traditional tools like scalpels and sutures when treating the soft gum tissue. Our diode laser's focused wavelength can eliminate harmful bacteria and diseased portions of tissue effectively while also providing instant sterilization that minimizes common post-operative symptoms like swelling and bleeding.
Learn More About Laser Dentistry
Air Abrasion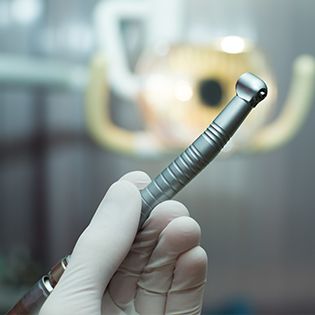 Instead of using a dental drill to remove small areas of tooth decay, Dr. LaCap and Dr. Tong have chosen a much more conservative solution: air abrasion. This advanced instrument works like a mini sandblaster, spraying a fine stream of particles that gradually knock loose the decay so it can be suctioned away through a thin tube. Because there's no heat or pressure, patients feel very comfortable throughout the treatment process, and more of the healthy tooth is successfully preserved as well.
Cavity Detection System
The development of cavities is a gradual process, and the earlier we can detect them forming, the better for your natural smile! That's where DIAGNOdent comes in. This tool uses fluorescent technology to scan the teeth for tell-tale signs of outright decay, identifying them clearly in a detailed print-out by comparing weakened spots to the wavelengths of healthy enamel. We can even discover cavities in hard-to-reach areas of the mouth that aren't accessible to the naked eye.
The Wand™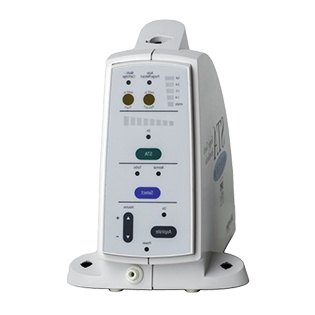 Local anesthetic is an important part of most extensive dental procedures, but some patients have a fear of needles or dislike the moment of unpleasantness that comes with that tell-tale prick of the injection. Your comfort is a top priority for our Bergenfield team, which is why we now use The Wand to deliver anesthetic more comfortably than ever before. The Wand is a computer-controlled delivery system that hides the needle in a pen-like "wand," and the low pressure of the injection isn't even noticeable to most patients.
Patient Amenities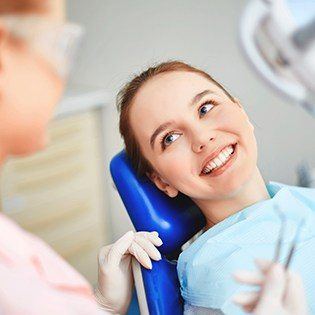 We want our visitors to feel relaxed and right at home during every appointment, which is why Washington Dental Associates also features plenty of attractive amenities that resemble a spa-like setting. We have high-resolution TV's in all of the treatment rooms and a large selection of DVD's, as well as CD's with headphones to use. Heated massage chairs, blankets, and paraffin hand treatments are also available upon request. There are even cookies and refreshments in the waiting room!