The Best Expert Dentists are at Washington Dental Associates. They are dedicated to serving Bergenfield, Dumont, New Milford, Teaneck, Cresskill and Tenafly in the New Jersey, Bergen county area. Invisalign, cosmetic dentistry, painless root canals and implants is what they do best.
Family and Pediatric Dentistry
Dental Care for the Whole Family
Preventive dental care is the foundation of good dental health. A focus on family and pediatric dentistry means that we can treat all your loved ones in our office. During your visit, we will carefully examine each of your teeth for problems or potential problems. Once we have completed the examination, we will talk with you about a treatment plan and provide instructions for effective homecare so that you can maximize your dental health. Recare visits and daily maintenance help patients keep their mouths healthy, deter dental pain, and minimalize expense.
Find outstanding family and pediatric dentistry at Washington Dental Associates. If you live in New Milford, Tenafly, or the surrounding areas, contact us today. We welcome area residents to our Bergenfield office. Visit our dental library for more information about oral health or mouthguards.
Related Children's Dentistry Articles
Dentistry and Oral Health for Children
As part of our special section on oral health topics affecting kids, Dear Doctor brings you this wide-ranging overview of milestones and transitions in your child's dental development. Learn how to protect your children from tooth decay, dental injuries, and unhealthy habits while getting them started on the road to a lifetime of oral health and general well-being... Read Article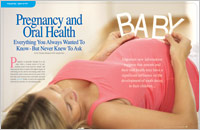 Pregnancy & Oral Health
Pregnancy is generally thought of as the time when a woman strives to be particularly aware of the need for "health". Many women though may not be aware of the link that exists between their oral health and their systemic (general) health, as well as the impact that many other factors can have on a developing child. Learn about how to care for yourself and your baby... Read Article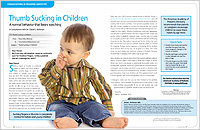 Thumb Sucking in Children
A normal behavior that bears watching... Read Article
How to Help Your Child Develop the Best Habits for Oral Health
Proper oral health habits are easy to learn - and lead to behaviors that result in life-long dental health. And the time to begin is as soon as your child's first baby teeth appear. From tooth-brushing for your toddler to helping your teenager stay away from tobacco, Dear Doctor offers the most important tips for healthy habit formation through childhood and beyond... Read Article
Top 10 Oral Health Tips For Children
There's no need to wait until your baby actually has teeth to lay the foundations for good oral or general health. In fact, good nutrition and oral hygiene can start right away. It is up to you to develop the routines that will help protect your child from tooth decay and other oral health problems. So let's get started... Read Article