Meet The Team
"We are very privileged to be working with such a gifted, intelligent and dedicated group of dental professionals" -Dr. Tong and LaCap
Lindsay Calderon, Registered Dental Hygienist
Lindsay is very familiar with our dental office. She has been a patient with us for over fifteen years. She was also Dr. Lacap's part-time dental assistant for two years. Now she is sitting on the other side of the dental chair as one of our caring hygienist. Lindsay holds a Bachelor of Science degree in Psychology from Stony Brook University. She brings with her the experience of knowing how to utilize and incorporate the latest oral care techniques and technology for our hygiene department. Her friendly and caring personality will make you feel right at home. She is very gentle and thorough. Being a great educator she utilizes many visual aids like the intra-oral camera.
Lisa M. LaFazia, Dental Assistant
Lisa is the newest member of our dental team. She is a people person. This is reflected in her smile and easy going spirit. She is Dr. Tong's main assistant. She comes to us with numerous talents. She was a flight attendant for 2 years with Transmeridian Airlines. Before that, she owned her own Tanning and Nail Studio for 7 years. Being in the service industry has made Lisa invaluable in making the patient comfortable and relaxed during all dental procedures. She has a way of making our patients comfortable and relaxed during treatment - almost as if they were in their own living room watching TV.
Leticia (Letty) Morales, Registered Dental Assistant
If Letty seems more knowledgeable than the average dental assistant, it's because she is. Letty can look at an x-ray and predict what treatment is needed. Letty has a way of making our patients comfortable and relaxed during treatment - almost as if they were in their own living room watching TV. She is also great in helping our patients make the right decisions for themselves.
When Letty is not in the office assisting the Doctors (about-the-doctors.html) in their quest for giving every patient that perfect smile, Letty keeps busy with her husband and four children.
Dayana Diaz
Did you know Dayana is originally from Venezuela? She came to the United States when she was 18 years old! She is married and a proud mom of a 7 year old boy.
As a Dental Hygienist, "I love what I do because I get the privilege to make a difference in people's lives, which I personally believe to be one of the greatest rewards of my career," she said. Always there to greet patients with a kind beautiful smile.
Christina Psonis, New Patient Coordinator
Christina will probably be the first voice you hear when you call our Tappan office and the first person to welcome you into our office. When you meet Christina, you will realize that the smile she has on her face means she's genuinely happy to see you. She is definitely a people person and make you feel right at home! She's also a pro at helping you maximize your insurance. She can also work with your budget and help you find a convenient appointment time.
She and her boyfriend of 5 years have 2 dogs together a Pomeranian (Lexi) and a Mexican Frenchie (Pebbles). She loves to travel in her spare time, cook, go to wine tastings, and have get-together's with her friends. One thing you probably don't know about her is, she's also a licensed esthetician and loves to paint on canvas!
Kimberley Delury, Dental Assistant
Kimberley is one of our friendly certified dental assistants. She's been a dental assistant since 2006 and has been with our practice for almost 2 years.
She's married for almost three years, is expecting her first child and has our wonderful cat named Dylan. In her spare time she loves spending time with family and going out to see new movies. She also loves exercising and hiking in her spare time.
"I love helping people and making their experience the best it could be! I want to make a difference in people's lives," she says. Always there to greet you with a big smile and a caring heart.
Ana DeJesus, Team Leader
Ana DeJesus, Team Leader has two daughters, ages 24 and 28. She is also a new grandma!
In the summer she loves riding her motorcycle through scenic routes. Whether on her bike or taking a stroll, she also likes to stop and take nature photos. Things like moving water, sunsets, animals in their habitat, the clouds in the sky, the autumn leaves.
She always wants to help make our patients experiences the best they can be.
Wendy Richmond, Healthy Smile Ambassador
Wendy Richmond, Healthy Smile Ambassador, has a diverse background that lead her to us. She has been a successful cabaret singer in New York City, owned a karaoke business and studied marketing in her spare time. She knows the value of a healthy smile and loves to spread the word to everyone she knows!
Kim Bautista, Team Leader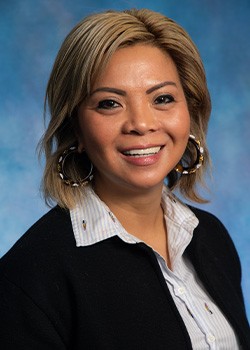 Bio Coming Soon.