Invisalign® FAQs
Maybe you never received the orthodontic treatment you needed as a child, or perhaps you forgot to consistently wear your retainer after your teeth were aligned and they have relapsed. Whatever the case may be, if you are living with crooked teeth, it takes a toll on your confidence. Did you know that it also takes a toll on your oral health?
Teeth that overlap are harder to keep clean with regular brushing and flossing, and this could increase your risk of developing issues like tooth decay, cavities, or gum disease.
The good news is that Invisalign in Bergenfield may be the solution you're looking for since it aligns teeth with efficiency and discretion. Here are some of the common questions we hear about Invisalign.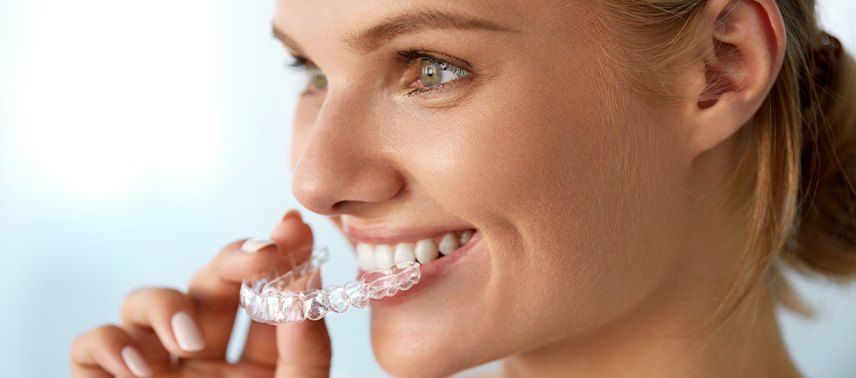 Why Choose Washington Dental Associates for Invisalign® Clear Aligners?
Dedicated Dentists With Decades of Experience
100% Clear Aligners – Say Goodbye To Wires & Brackets!
Children & Adults Are Always Welcome
How Does Invisalign Straighten My Teeth Without Braces?
Instead of utilizing the metal brackets and wires used in traditional orthodontics, Invisalign uses clear plastic aligners to apply gentle pressure and gradually straighten your teeth. Aligners should be worn at least 22 hours per day and changed every two weeks, but they can be removed for meals and your oral hygiene routine.
How Long Does Invisalign Treatment Typically Take?
While each treatment plan is unique and based on the individual patient's needs, most Invisalign cases can be completed in 12 to 18 months. This is an efficient and convenient treatment for busy adults since it requires less visits with your dentist than traditional orthodontics.
Does Invisalign Interfere with My Daily Activities?
Because aligners are clear and designed to fit snuggly against your teeth, they do not interfere with talking or smiling at others. They are smooth and comfortable to wear, which makes it easy to comply with wearing them 22 hours per day.
Since your aligners are removable, there are also no restrictions to your diet or changes to your home care routine needed as there would be with traditional braces.
How Much Does Invisalign Cost?
The cost of treatment varies with each patient depending on the length and complexity of their case. However, it is usually fairly comparable to what you would pay for traditional orthodontics. The best way to determine the exact cost of Invisalign is to schedule a complimentary consultation with your dentist at Washington Dental Associates. Our certified Invisalign providers can help determine if this treatment is right for your needs and exactly how long it will take and how much it will cost.
Achieve A Straighter Smile Seamlessly!
If you're ready to move forward with Invisalign, we can even use 3D technology to show you what your straightened smile will look like before you start your treatment! Give us a call today to learn more and schedule your consultation.